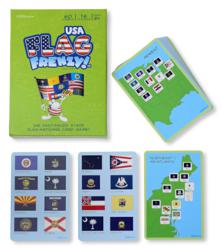 This game is fast and fun, and a great way to keep kids' brains active during the summer!
Neenah, WI (PRWEB) June 27, 2013
Geotoys, as part of its ongoing quest to make geography fun, and to inject some non-electronic entertainment into the summer travel season, is pleased to introduce a new card game "Flag Frenzy USA." Just in time for July 4, "Flag Frenzy USA" is a fast, furious, frenzy-inducing game where friends and family have fun finding the matching flags on forty nine different cards.
Each card in "Flag Frenzy USA" has eight different flags from U.S. states and territories, and every two cards has one flag in common. The goal of the game is to locate the matching flag between the card in your hand and the cards on the table. It's a fast-moving game of visual association, with the added benefit of learning the U.S. state flags.
"Flag Frenzy USA" also includes 10 "region cards" (West, South, Northeast, Midwest and Islands) where players must find flags from states and territories in those regions. A map of the USA with all the state flags is also included.
Geotoys President Bob Galinsky says, "Flag Frenzy USA is a great addition to our line of games and puzzles because it makes learning fun, which is what we strive to do. All of our games are fun, and kids learn more quickly when they're having fun."
"This game is fast and frenzied, and a great way to keep kids' brains active during the summer!"
Inventor Martin Andersen developed "Flag Frenzy USA" based on "Flag Frenzy", a similar game with country flags which won a Fat Brain Toy Award in 2012, based on consumer voting. "Flag Frenzy" is also available from Geotoys.
About Geotoys: Geotoys is a company whose goal is to make learning geography (and other things) fun. Geotoys is located in Wisconsin and has been making award-winning puzzles and games (including GeoPuzzles) since 2005.
About Martin Andersen: Martin Nedergaard Andersen is a game inventor based in Denmark. Martin won the "Rising Star Inventor" at the Chicago Toy and Game Show in 2012 and has licensed over 30 games in two years.