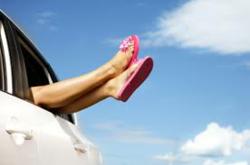 Defensive Driving skills don't take a summer vacation.
Dallas, TX (PRWEB) June 28, 2013
The days are long, schools are out, and lots of newly licensed teen drivers are taking road trips and feeling the freedom of the open road. The professional defensive driving instructors at WirelessDefensiveDriving.com have a short checklist to help parents and teen drivers through the summer (while still enjoy the season). "Defensive Driving skills don't take a summer vacation," says Kyle Collins, founder of the first online defensive driving school in Texas over 10 years ago.
With the summer season, the rate of accidents and fatalities due to driving accidents go up in numbers, especially for teen drivers. That is why the period of the year between Memorial Day and Labor Day has been given unfortunate title of "the 100 deadliest days."
Parents can keep the young drivers safe this summer by talking with them about the Top 10 Deadly Driver Mistakes and how to avoid them while behind the wheel.
1. Distractions
2. Testing while driving
3. Speed
4. Use cell phones.
5. Fidgeting with Music
6. Late Night Driving
7. Friend and Peer Pressure
8. DWI/DUI
9. Sense of Invincibility.
10. Overconfidence regarding driving skills.
For longer road trip, check out this defensive driving checklist made for the epic family trip. Here the drivers and the parent can find tips on what to take on the road and what to do before even beginning a long road trip.
WirelessDefensiveDriving.com
5470 West Lovers Lane
Dallas, TX 75209
Office: 888-925-9501
Fax: 972-360-3998
Support: 972-295-9005
Email: support(at)wirelessdefensivedriving(dot)com