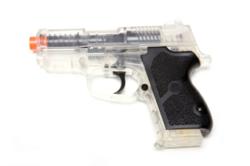 BB guns are not toys and represent a serious threat to children.
Dayton, OH (PRWEB) June 26, 2013
"You'll shoot your eye out" is a phrase most people laugh at because the popular movie A Christmas Story made the use of BB guns out to be a non-serious issue. In actuality, the use of BB guns is no laughing matter. This month alone, Dayton Children's Hospital has seen four children with severe injuries from BB guns.
According to the CDC, over 21,000 people are seen in hospitals yearly for BB wounds, of those 80 percent are less than 18 years of age. "Dayton Children's Hospital has seen 13 children in the emergency department in the last year due to BB gun injuries and six of these children were admitted to the hospital. There have been nine children with BB wound injuries in the last two months and two were shot in the head. Not all of them are serious but some of them do have critical injures," says Lisa Schwing trauma program manager at Dayton Children's. The number of BB wound injuries reported is a lot higher than usual which is cause for concern.
Although BB guns don't use bullets, the BBs can still penetrate the skin leaving more than just a flesh wound. The BB from a pump action BB gun travels up to 1,200 feet/second. The wound visible on the skin is so small it is difficult to tell if a BB entered the body. Children delay reporting what happened to their parents or caregivers because they may think the BB bounced off of them. Children are often afraid to tell an adult that they were shot with a BB because they think they will be in trouble. Delaying telling a parent makes things worse.
BB guns are not toys and represent a serious threat to children. Small children are at even greater risk because the smaller the child, the more likely the BB will penetrate into the body resulting in life threatening injuries. A child as young a three has the strength in their finger to pull a trigger. Each year, approximately 3.2 million non-powder guns are sold in U.S. department stores, including toy stores. Knowing and using BB gun safety tips can help reduce and prevent accidents like this from happening.
To ensure the safest environment for your family follow these safety tips from Dayton Children's:

A BB gun is a gun.
Parents should closely supervise children using BB guns.
Shoot only at targets where no one can accidentally be shot.
Take the ammunition out of the gun.
Lock the ammunition and store it apart from the gun.
Lock the gun and keep it out of reach of kids. Hiding the gun is not enough.
Store the keys for the gun and the ammunition in a different area from where you store household keys. Keep the keys out of reach of children.
Lock up gun-cleaning supplies, which are often poisonous.
When handling or cleaning a gun, adults should never leave the gun unattended.
Three rules to tell your children if they come in contact with a gun:
1. Stop what they're doing and leave the immediate area if there is a gun.
2. Do not touch the gun.
3. Tell an adult right away.