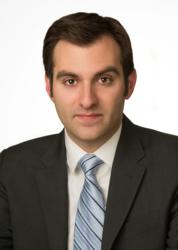 "I've chosen to be in real estate because of a deep-rooted love for the business that was instilled upon me at a young age. I'm proud to uphold my family legacy and it helps to define who I am as a person. To me, that is success."
Westchester County and New York, NY (PRWEB) June 27, 2013
Alex Leventhal, Managing Partner at Faros Properties, was selected by the Business Council of Westchester to receive a "Rising Star – Westchester's Forty under Forty" award. The event took place on Monday, June 10th at the Empire City Casino at Yonkers Raceway and acknowledged individuals in Westchester who are making their mark in their chosen profession at a young age.
Alexander has solidly established himself as a real estate entrepreneur throughout Westchester County, as well as New York City, and other major cities. His firm's Westchester County properties, which include the International Corporate Center in Rye and 120 Bloomingdale Road in White Plains, have not only created numerous jobs, but also have brought prominent companies to the area. Alex makes energy conservation and the smart use of technology a priority for his properties in his commitment to environmental responsibility.
Leventhal possesses a unique combination of business acumen and a creative mind. He is a visionary with the ability to see the transformation of a property before an investment. Under Alex's leadership, Faros' management team invests its own capital alongside its investors in order to ensure a mutual interest in the performance and success of each property.
Alex expresses a passion for what he does. "I've chosen to be in real estate because of a deep-rooted love for the business that was instilled upon me at a young age. I'm proud to uphold my family legacy and it helps to define who I am as a person. To me, that is success."
Faros Properties, LLC, is located at 551 Fifth Avenue, Suite 413, New York, N.Y. 10176, 212.299.8700, http://www.farosproperties.com.