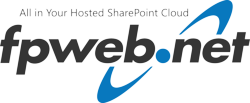 The Fpweb.net Partner Program is built around simplifying the relationship between you and your client.
St. Louis, MO (PRWEB) June 27, 2013
Fpweb.net, a leading SharePoint hosting provider, is proud to release a new Partnership Program that gives consultants and resellers a handful of ways to team up with them to earn money selling Fpweb.net's private cloud hosting solutions. Under the new Fpweb.net Partner Program, you can be a Reseller, Affiliate, Technology or Services Partner.
The announcement comes just in time for Fpweb.net's participation as a Sponsor at Microsoft's Worldwide Partner Conference in Houston, Texas on July 7-11, 2013. In addition to sponsoring and exhibiting their managed SharePoint hosting solutions, Fpweb.net will introduce Corey VanDyke, Fpweb.net's Channel Manager, who will be on hand to discuss the new partner program in the Microsoft Hosting Partner Pavilion.
Fpweb.net looks to WPC as a great starting point for the revamped program. The conference gathers all of the top Microsoft partners under the same building, creating a powerful network that can produce or bolster joint business efforts and further partnerships within the Microsoft community. According to their site, the Worldwide Partner Conference is "where partners go to get more."
"While this new program is just getting its legs, we already have existing partnerships that have been very successful and the feedback has been pivotal in redesigning the way we partner," said Fpweb.net Channel Manager, Corey VanDyke. "We are now offering sales training as well as targeted marketing efforts and other resources that will assist in the Affiliate and Reseller partners' development as well as help them grow their commissions."
Services and Technology partners will typically have a service or product that adds-on to SharePoint and can be recommended by Fpweb.net to clients. By increasing awareness and visibility, Fpweb.net assures the best possible success for all of their partners.
To learn more about Fpweb.net's Partner Program, visit http://www.fpweb.net/partner-with-fpweb/.
About Fpweb.net
Fpweb.net is the premier SharePoint hosting provider - matching Expert Support & Customer Care with nearly two decades of SharePoint Hosting experience. Fpweb.net's SharePoint Cloud helps you get to market faster and increase operational gains which lead to big cost savings for your business. Leave the backups, monitoring, server patching and support to our SharePoint experts so you're free to focus on the next big thing for your business. For more information, please visit http://www.fpweb.net.