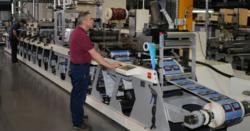 Delivering these gains will result in tangible improvements in our service provision and recognisable value to our customers
Royston, Hertfordshire (PRWEB UK) 27 June 2013
Leading UK label manufacturer Royston Labels has recruited a new Quality Manager at its production facility in Hertfordshire. Accredited to PS 9000 and ISO 9001 standards, the company supplies a multitude of customers spanning industries including pharmaceuticals and cosmetics, where regulatory standards are extremely stringent.
Dee German has been appointed to establish and maintain integrated management systems for quality and safety. Royston Labels is committed to continually reviewing its business processes, and driving improvements which will benefit its customers. As well as leading this activity, Dee will have responsibility for regulating environmental and hygiene standards.
Paul Clayton, Royston Labels Managing Director, said, "We are delighted to have Dee on board - her wealth of experience makes her the ideal person to promote positive change within our company, and uphold the strict quality standards that have become a benchmark for us."
The new role will also entail governing risk assessment, streamlining, audit, and compliance initiatives for both Royston and its suppliers. All key business areas will be subject to quality measures, which will lead to improvements in an already excellent standard of label offering. This includes:
Label product quality – Royston Labels' products are extremely consistent, and carefully controlled between the proofing and printing phases so that even the smallest text is completely legible. Dee German will work to ensure that the company's control procedures remain robust and exacting.
Label production capabilities – Royston can print up to 12 colours onto a wide range of materials, including clear and white films, metallic and holographic materials, standard or more specialised papers and sachet laminates. Streamlining its production processes will lead to widespread improvements, including reduced waste and increased efficiency.
Customer service – The knowledgeable account management team at Royston Labels helps ensure customer expectations are always met. By working with Dee to outline back of house procedures that can best support its stakeholders, Royston hopes to improve its service levels.
Delivery deadlines – Royston has a reputation for impeccable OTIF delivery performance which it is committed to upholding.
"When we identify and remove waste from any process we will speed things up, reduce costs and improve the quality and consistency of what we do." Stated Dee German, Royston Labels new Quality Manager. "I'm looking forward to delivering these gains at Royston Labels, and believe strongly that the knock on effects will result in tangible improvements in our service provision and recognisable value to our customers."
About Royston Labels:
Founded in 1984, Royston Labels is a multi-award winning self-adhesive label manufacturer, specialising in top quality, fit for purpose labels that are certified to ISO9001 and PS9000 standard. Royston Labels are passionate about labels, understand the power of labels to add brand value and communicate product identity, and are dedicated to ensuring excellence in service.http://www.roystonlabels.co.uk
For more Information please contact:
Stephanie Rogers, Marketing Manager
http://www.roystonlabels.co.uk