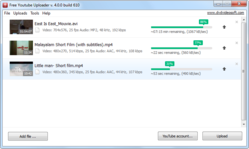 New York, NY (PRWEB) June 28, 2013
DVDVideoSoft, the boosting developer of free multimedia software, has updated the tool for uploading videos to YouTube, Free YouTube Uploader. It is the first PC desktop application to upload videos to YouTube without using YouTube web interface.
If a user uploads multiple videos, DVDVideoSoft YouTube Uploader is a perfect companion as it is very easy to use and saves lots of time due to batch uploading as several video files can be uploaded to YouTube during one session.
Now the program allows users to save account information for quick login in case several YouTube accounts are used. Moreover, there is an option to submit video info for better advertising of videos on YouTube as well as to manage video settings with one click (comments, responses, votes, ratings, etc.).
The uploading via proxy has been also improved and in general Free YouTube Uploader has become more stable and fast responding to user's actions, thus making the process of uploading more pleasant and enjoyable.
YouTube Uploader as well as all other free DVDVideoSoft tools are available for direct download at company's website http://www.dvdvideosoft.com.
About DVDVideoSoft:
DVDVideoSoft is an independent developer of multimedia software programs for video and audio processing. The company was founded in 2006 as an affiliate distributing paid software. Today, DVDVideoSoft offers 49 multifunctional easy-to-use applications with step-by-step instructions on how to solve different multimedia tasks with the help of its programs and, if necessary, provides free comprehensive support in English, German, French, Spanish, Italian, Russian, Japanese languages.