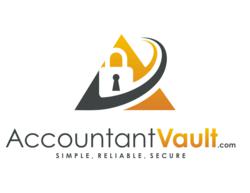 'When developing a cloud IT solution for our own firm, we noted a gaping hole in the marketplace,' co-founder Nathan Brim
Oklahoma City, OK (PRWEB) June 29, 2013
AccountantVault.com, the only Cloud based IT solution designed solely for accounting firms, launched its first of a kind service. Developed by accounting industry experts, AccountantVault.com delivers services exclusively designed for small and medium sized accounting firms. Sighting a growing number of firms desire to move to the Cloud and a lack of qualified service providers in the space, AccountantVault.com seeks to fill be gap for the over 100,000 accounting firms in the United States. The cornerstone service offered is unlimited user support by professionals that are experts in the unique software, integration, client communication, security, and regulatory compliance.
"When developing a cloud IT solution for our own firm, we noted a gaping hole in the marketplace," noted co-founder Nathan Brim. "There were lots of hosting companies out there that did a great job for most companies. However, no one could address the unique needs that an accounting firm has. This is a highly regulated, specialized industry, and you need experts that understand its requirements."
AccountantVault.com is a Cloud based IT solution only serving accounting firms. Developed by practicing accountants, the company delivers industry specific solutions for small and medium sized firms. Interested firms should contact Christian Brim at 855-420-7263.
Additional services offered by AccountantVault.com include: Quick Books Pro Advisor support, for those firms that do not have the in-house expertise to service their clients; Knowledge and management sharing between professionals, powered by Bloomfire; Human resource sharing, allowing firms to maximize underutilized staff and tap into specialists around the country. "We're very excited about the opportunities of collaborating firms from around the country, with different specialties and expertise," Mr. Brim stated.
Future services contemplated by AccountantVault.com include bank level security, data aggregation tools that allow accountants to add more value, and second generation client portals that enhance client interaction and communication. "Looking ahead for the industry, we believe bank fraud and data security are going to be at the top of the list for firms. Most firms don't really understand their exposure in this area, and our solutions will help mitigate these very real risks," commented Mr. Brim.