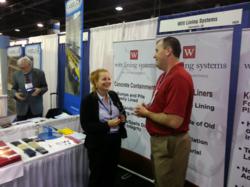 SUR/FIN provides a great opportunity to interact personally with our customers and thank them for trusting us with their business
Claremore, OK (PRWEB) June 27, 2013
SUR/FIN 2013 was recently held in the Chicago suburb of Rosemont, IL. The annual event draws metal finishers and related industry personnel from around the world for a week of conferences, presentations, and exhibits.
Witt Lining Systems returned as an exhibitor this year and company president, Andrew Hotchkies, views the show as a success. "SUR/FIN provides a great opportunity to interact personally with our customers and thank them for trusting us with their business," Hotchkies said. "To new customers we get the opportunity to show and explain how our product is better than anything else being offered and how our liners provide a low service cost benefit."
Cheryl Clark, Director of Events for NASF commented "SUR/FIN truly is the place where metal finishers come to meet." She also announced that SUR/FIN 2014 will be held June 9-11 at the Cleveland Convention Center in Cleveland, OH.
Witt Lining Systems is located in Claremore, OK. The company manufactures flexible PVC liners used for corrosion resistance in process tanks, storage tanks, vats, sumps, pits, floor and containment areas. PVC brands include Spectra Blue™ PVC liner, Exceline™ PVC liner, and Koroseal® PVC liner PVC liner along with NSF-61 PVC and Teflon liners. For more information contact 1-800-323-3335 or visit http://www.wittliners.com