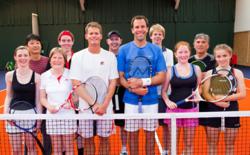 (PRWEB UK) 28 June 2013
Eight lucky David Lloyd Leisure members were given a once-in-a-lifetime opportunity to play with tennis legends, Greg Rusedski and Wayne Ferreira, after winning their place on court in a competition to celebrate Brodies Champions of Tennis.
The group were put through their paces and given top tips by the former British no.1 and the South African former ATP Tour player at David Lloyd Edinburgh, Glasgow Road, Gyle, on Friday 21 June.
The event was organised to mark David Lloyd Leisure being the official racquets, health and fitness partner for Brodies Champions of Tennis, part of the ATP Champions Tour, which was held in Edinburgh on 20-23 June.
As well as Greg Rusedski and Wayne Ferreira, the Brodies Champions of Tennis line-up included John McEnroe, Tim Henman, Goran Ivanisevic, Carlos Moya, Thomas Enqvist, Mikael Pernfors and Mark Philippoussis, who battled out old rivalries in a purpose-built arena in Stockbridge, Edinburgh, with Enqvist being crowned champion.
Europe's premier health, sports and leisure group gave its Edinburgh and Edinburgh Newhaven members the chance to take part in a master class with two of the legends, as well as tickets to watch the live matches. Plus, there were a host of special offers to tennis lovers and fitness fans wanting to enjoy a taste of the David Lloyd Leisure experience at its Scottish clubs!
Greg Rusedski said: "We played a bit of mixed doubles and gave them a few tips – and it was very enjoyable!"
Competition winner Gordon Miller said: "To come on court with these guys whom I've looked up to for many years has been fantastic!"
David Lloyd Leisure Scotland area manager, Hugh Cameron, said: "It was great to be able to give members this chance to get on the same court as Greg and Wayne and learn some top tips to improve their game – it's not every day you are a given an opportunity to play with guys of their calibre."
The ATP Champions Tour is a tennis circuit of World No. 1 players, Grand Slam champions and finalists, and Davis Cup winners, and has been enjoyed in cities all around the world.
ENDS
Note to editors: For further information about this press release, contact the David Lloyd Leisure press office on 01707 289833/4 or email press(at)davidlloyd(dot)co(dot)uk.
About David Lloyd Leisure Group
The David Lloyd Leisure Group operates 81 clubs in the UK and a further 10 clubs across Europe. It has over 440,000 members and employs 6,000 people. This includes an expert health and fitness team of over 1,800, while it contracts the services of more than 400 tennis professionals. Across all clubs, David Lloyd Leisure has over 150 swimming pools (of which half are indoor) and offers over 10,000 exercise classes per week. Every week 20,000 children learn to swim at David Lloyd Leisure and 14,000 learn to play tennis. Its racquets facilities are unparalleled with 700 tennis courts as well as 180 badminton courts and 140 squash courts. Additional facilities include health and beauty spas, club lounges with free internet access, crèches, nurseries and specialist sports shops.