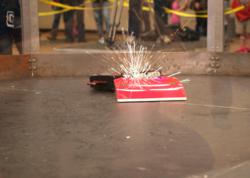 (PRWEB) June 28, 2013
Roll-Kraft has once again teamed up with the local Chamber of Commerce and AWT (Alliance for Working Together) to sponsor the annual RoboBot competition. This event gives students from local schools the opportunity to work with manufacturing companies to design and manufacture a working robot which then competes in multiple crash-and-bang one-on-one contests. Between rounds, the students pull together to be sure their robot is in good working condition and ready for the next contest. Eventually, competitors are eliminated and one winner survives.
This day-long event has grown from 10 teams in 2011 to 23 teams in 2013, reflecting the enthusiasm generated in the schools and among local sponsors. The competition is instrumental in forging relationships and ties between local students and the manufacturing community, while providing and developing technical knowledge which will be useful to the students in the future.
Roll-Kraft is a manufacturer of roll tooling for the tube and pipe and roll forming industry. The company has a large staff of highly experienced in-house engineers who design tooling on a daily basis that is used worldwide. The RoboBot event allows them the unique opportunity to work with individual students and share hands-on knowledge. Beyond engineering, the students also actively participate in the manufacturing process, giving the students confidence in setting and meeting goals that result in a complete workable robot, ready to compete.
Roll-Kraft has its headquarters in Mentor, Ohio, and maintains other facilities in Frankfort, Illinois (Roll-Kraft Northern), and Ontario, Canada (Roll-Kraft Ltd.). The company phone number is (888) 953-9400 or (440) 205-3100, and the fax number is (440) 205-3110. Please also visit the website at roll-kraft.com. For easy and immediate contact with Roll-Kraft that transcends time zones and working hours, the website features Dr. Resolve. Simply complete and submit an on-line form and Roll-Kraft will respond.