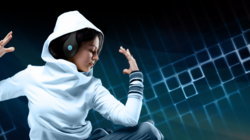 Morgan Hill, CA (PRWEB) June 26, 2013
In the city that never sleeps in the industry that never ceases to innovate, Velodyne Acoustics proud to announce the launch their newest headphone, the vQuiet® to debut at CE Line Shows and Exhibits. This active noise-canceling headphone removes all unwanted sound with over 90% reduction. In all the hubbub of the CE exhibits within the technology industry, Velodyne is happy to offer the opportunity to tune out to your favorite music, with the luxurious and unaltered sound for which Velodyne has been recognized. The noise-canceling vQuiet® will be on display at the opening of the CE Line Show exhibits, at the Altman Building, Table 126.
Allowing audiophiles to focus on only the music that they love, no matter what their surroundings, Velodyne's newest audio product, the vQuiet® brings style, quality, and convenience to their ears. The sleek style of the headphones feature a 40 mm driver, with 90% noise reduction capacity, making the listening experience accurate and true.
The vQuiet® will be on display along with Velodyne's other celebrated headphone line, including the vFree® Bluetooth wireless, vPulse®, vLeve®, vTrue®, and vBold®. For more information on Velodyne's legendary audio products and participation in 2013 CE Week, please visit Velodyne.com.