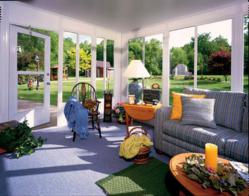 Don't add space without knowing how you will use it.
MIAMI, FL (PRWEB) June 27, 2013
"It's not as big as I thought it would be."
"I wanted more light."
"I wish it looked like the rest of my house."
"We need more outlets."
"There's no place to store our stuff."
Chris Noe, president of Venetian Builders, Inc., Miami, has heard them all. His firm custom-designs and installs aluminum sunrooms, patio covers and screen enclosures.
"Many homeowners fail to think through expansion because their builder didn't help them do it," Noe says, "so they call us to fix the shortcomings. We try to make sure every one of our customers gets what he wants. Here's how to make sure you do." Avoid these common mistakes, Noe urges:
PURPOSE. "Don't add space without knowing how you will use it," Noe suggests. "You'll need more space for a living room, family room or dining room, less for a bedroom or den. You'll want less light for a media center or home office than for a reading space. You'll want wider doorways if you plan to move in a piano, not just a sofa and chairs. On a shaded lot, giant skylights can brighten the room."
SIZE. "A 12-by-12 addition is 144 square feet," Noe says. "That sounds big, but it's only the size of a small bedroom." Noe's suggestions: "If you think two of your rooms combined would make a nice family room, measure and go for it. If friends have a room that's just right, ask to measure it. Try outlining the space you're considering with string and stakes on the lawn or tape on the patio to see if everything fits."
STYLE. "Your choice in windows, roofing, flooring, wall and ceiling finishes, and woodwork will determine appearance," Noe says. "Don't fret if you can't do it all. Factory finishes are aesthetically pleasing, and the things you do yourself – window treatments and accessories – help tie in to your existing décor."
POWER. "Ceiling panels can carry power for lights and fans, and ceiling and wall panels can handle electrical, TV and computer lines," Noe says. "Consider suspending a giant TV or speakers from the ceiling. Make sure wall space is adequate if you plan to place a large screen there. With today's electronic demands, extra outlets are a good idea."
STORAGE. "Homeowners who convert a garage into living space know the result is clutter. Why? Their storage is gone," Noe says. "Consider cabinetry, closets or an exterior-doored storage area when adding space. If the garage is already gone, consider a driveway cover to shelter cars."
BUDGET. "If your budget is smaller than a sunroom might require, an insulated patio room will cost less but can be used day or night, year round, with opening windows and screens," Noe says. "We can even engineer screen rooms to convert economically to a sunroom when your budget permits. Remember that any properly engineered aluminum structure will go up faster and at a lower cost than traditional construction."
"Look for a builder who helps you plan," Noe says. "If he's there 10 minutes and gone, make sure he stays gone. Find out who does custom design, no matter how big or small the project, so the space meets your needs. Be certain the estimate is written, detailed and free. And ask if you can see what your expansion will look like before he starts work."
Venetian installs 4 season rooms; patio roofs, including aluminum pergola and lattice; and swimming pool screens in West Palm Beach, Fort Lauderdale, Hollywood, Miami, the Keys and all nearby communities, including Davie, Jupiter, Boca Raton, Boynton Beach, Hialeah and Homestead.
For more information on a free at-home visit by our mobile showroom, call 866-596-2427.