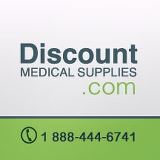 An exciting new partnership is paving the way for increasing charitable donations to deserving medical groups through a special program at DiscountMedicalSupplies.com.
(PRWEB) June 27, 2013
Medical superstore DiscountMedicalSupplies.com is partnering with various medical and chiropractic associations around the country to help them raise the money they need. In turn, those associations will soon be able to invest the funds into areas of interest to their members.
Dr. Jon Segal, the owner of DiscountMedicalSupplies.com explains, "We understand that raising money for organizations is a challenging task in today's economy." The new program allows members of these groups help the associations just by purchasing their usual supplies and equipment at a deep discount.
Each participating organization will receive a customized splash page on DiscountMedicalSupplies.com completely free of charge. Members will arrive on the page through a special link on the association's website. The link will be used to guide and track participants and their transactions. Each organization will receive $10 per order placed through the splash page.
As a rapidly growing medical superstore, DiscountMedicalSupplies.com offers medical products for a variety of uses, including chiropractic care and physical therapy. It also offers live product help from doctors and a highly-trained staff, along with customer reviews to provide more information to patients about specific products.
DiscountMedicalSupplies.com offers products related to pain relief, wound care, diabetes, incontinence, rehabilitation, orthopedics, mobility aids, massage, acupuncture, fitness, bathroom safety and clinic supplies. In addition to servicing patients, caregivers, and practitioners, it also ships to distributors and wholesalers.
Discount Medical Supplies offers video webinars, classifieds, product reviews and an educational video library. It also provides free shipping on all orders over $100 in the continental U.S., as well as daily specials.
About Discount Medical Supplies:
Discount Medical Supplies is a medical equipment and supply company operated by caring physicians. It offers the highest quality medical supplies to practitioners, patients, caregivers, and families at the lowest available prices. It also provides easy ordering and fast delivery. To see what Discount Medical Supplies can do for your business, visit http://www.discountmedicalsupplies.com.