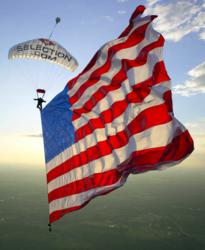 In Ohio, Indiana and Kentucky alone, 1 in 5 children live in poverty.
Sparta, KY (PRWEB) June 27, 2013
Feed The Children is sponsoring the NASCAR Nationwide Series Feed The Children 300 for the third year in row at the Kentucky Speedway in Sparta, KY. Partnered with the Speedway Children's Charities, Feed The Children will deliver 500,000 pounds of food and supplies to families in racing communities across the country. As part of the National Anthem ceremony, Team Fastrax will be skydiving down with their 1,000 sq. ft., 2,000 sq. ft., and 3,700 sq. ft. flags in a patriotic aerial display you will not soon forget. One skydiver will also be jumping with a green flag to signify the start of this exciting race.
According to Feed the Children, the number of children right here in America facing hunger could fill the Kentucky Speedway grandstands more than 151 times. In Ohio, Indiana and Kentucky alone, 1 in 5 children live in poverty. John Hart, owner of Start Skydiving and member of Team Fastrax, said, "Poverty is a very real problem in America, and Team Fastrax is happy to be a part of this event."
Also included in this action-packed weekend of music, food, camping and racing, is the NASCAR Sprint Cup Series Quaker State 400. The third NSCS event in Kentucky Speedway history will be the 17th of 36 championship races and one of six that make up the Turner Network Television (TNT) NASCAR Summer Series. Team Fastrax will be performing the green flag jump this day as well, after the Billy Currington pre-race concert.
Team Fastrax is sponsored by Selection.com, a leading provider of criminal background checks and pre-employment screening services. They are the most ambitious professional skydiving team in the world. The team has a roster of more than twenty-nine active members, with a culmination of more than 300,000 skydives. Team Fastrax has performed exhibition skydives all over the world for audiences large and small as a patriotic display or as a product promotion.
For more information and to purchase tickets, visit the Kentucky Speedway's website at http:http://www.kentuckyspeedway.com.
For questions or for an interview, contact Gene Newsom with Team Fastrax at 513-422-5867.