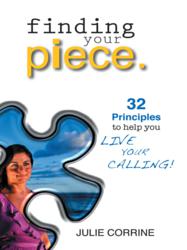 People experience stress or restlessness when they're not acting out their life purpose. My intention is to help others find their puzzle pieces, see how they fit in the bigger picture and, of course, achieve peace in their lives
Honolulu, HI (PRWEB) June 28, 2013
Due to increased job and financial pressure, 77 percent of Americans regularly experience stress according to a study from the American Psychological Association.
In Finding Your Piece, author Julie Corrine Audino shares advice to help relieve anxiety caused by everyday life, which takes a toll on the body and mind. Through her 32 principles and three-phase process, Audino guides readers seeking to achieve their own inner peace and enhance their overall well-being. Finding Your Piece emphasizes that to reach the best version of one's self, readers must challenge themselves both emotionally and physically.
"People experience stress or restlessness when they're not acting out their life purpose. My intention is to help others find their puzzle pieces, see how they fit in the bigger picture and, of course, achieve peace in their lives," states Audino.
Finding Your Piece
By Julie Corrine Audino
ISBN: 978-1-4525-5770-0
Available at Amazon.com, Barnes and Nobles, Balboa Press and http://www.juliecorrine.com
About the author:
From her experience as a trainer of physical and spiritual healing, Julie Corrine Audino developed Finding Your Piece to educate and inform others looking to transform their body and mind. Currently, she is pursuing her passion of helping others through speaking engagements and training sessions.
####