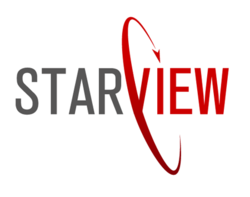 Orlando, Fla. (PRWEB) June 26, 2013
Starview Inc.™, provider of the industry's leading Operational Intelligence (OI) technology, today announced that Cisco selected the company as one of a handful of software vendors to develop innovative networking applications with the onePK API toolkit. Starview is showcasing its new onePK-powered application for Software Defined Networking (SDN) Analytics in the Cisco ONE Programmable Networks Pavilion at Cisco Live.
The onePK API toolkit, which allows developers to create networking applications that help business applications, is a key element of the Cisco's Open Networking Environment (ONE) strategy. According to Cisco, "Cisco ONE is Cisco's portfolio that addresses SDN and, more broadly, incorporates programmability across the network infrastructure to enable innovation, investment protection and lower operating expenses."
Today's business and IT executives are demanding increasingly sophisticated technologies to optimize the utilization of their infrastructure assets and to provide operational excellence. By combining the power of operational intelligence and network programmability, the Starview – Cisco onePK solution provides application and network optimization to ever shifting business needs.
"We are very pleased that Cisco selected Starview as a key partner for its innovative Cisco onePK Platform," said Jerry Meerkatz, CEO, Starview, Inc. "It not only underscores our own mission to bring to market Operational Intelligence solutions that help enterprises harness the power and business value of both the network and the application, but, it also validates Starview's unique approach to big data analytics."
Starview's application for SDN Analytics is a packaged application that dynamically optimizes application-network interaction by acting on usage behavior, patterns and anomalies. Customers gain real-time insight into the IT operations infrastructure by monitoring and analyzing the massive amounts of data in motion among enterprise applications. Combining this with the network intelligence harvested from Cisco onePK provides a 360-degree view of how the network is responding to application demands in real time.
Today's announcement marks the beginning of Starview's beta program for its application for SDN Analytics. Any organization interested in participating in the beta program should visit: https://www.starviewinc.com/operational-intelligence-company/contact/. Starview expects its application for SDN Analytics to be generally available in the fourth quarter of 2013. Cisco also anticipates support for onePK across its entire enterprise routing and switching portfolio within the next 12 months.
About Starview Inc.
Starview Inc. is the provider of the industry's leading Operational Intelligence (OI) technology. Starview's products, the Starview Enterprise Platform™, and Starview's family of Operational Intelligence applications, offer organizations the ability to maximize the potential of large amounts of fast-moving, fluid data in real time; pulling meaningful and complete context out of the complexity and vastness of Big Data events. The result is actionable insights that dramatically create value for businesses. Starview customers use the company's patent-pending Active Model technology to monitor and manage IT Operations, such as virtualized and traditional servers, complex distributed applications and software defined networking, as well as complex business solution deployments such as fraud protection, waste mitigation, transportation and logistics and more. Starview's products are used by some of the world's most innovative companies in a wide variety of industries including telecommunications, manufacturing, financial services and energy and utilities, enabling them to improve efficiencies, identify new revenue opportunities, streamline operations, and avert threats. For more information, please visit http://www.starviewinc.com.
Twitter: @starviewInc
###
Starview Inc., Starview Enterprise Platform, Star and Active Model are all licensed trademarks of Starview Inc. Any other trademarks contained herein are the respective property of their owners.