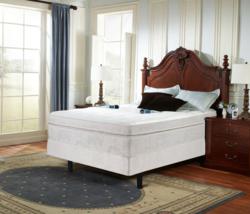 Another reason for seeking a new mattress is a question of hygiene. While a person sleeps, their body is busily rebuilding itself, including the layers of tissue that comprise skin cells.
St. Louis, MO (PRWEB) June 26, 2013
NightAirBeds.com has released the first part of a three part Mattress Buying Guide. Using the adage that informed consumers make the best customers, NightAirBeds.com found it necessary to help consumers make better and more informed purchasing decisions. By releasing this guide, NightAirBeds.com hopes to help take the frustration out of the mattress shopping process.
Most people use their beds for a variety of activities; from watching television to reading to simply relaxing, the bed can be the focal point around which daily activities revolve. Despite the fact that a person spends a third of their life asleep, the quality of their mattress is low on the list of concerns. If a full night's sleep leaves a person fatigued, stiff and sore when they wake in the morning, it might be time to start shopping for a mattress.
The life expectancy of most spring-based mattresses is about eight to ten years, but with good quality materials an innerspring mattress can last for eleven to fifteen years. Typically, the more you spend on a quality mattress, the longer it is going to perform. Unfortunately, even the best innerspring mattresses are going to break down over time due to daily wear and tear. The springs within the mattress are designed to cushion the body as it reclines upon the mattress, but constant crushing of the springs will eventually deform the material. Essentially, over extended time of smashing and recoiling, the springs will lose their springiness. As this happens, the materials cradle the body in a less efficient manner, resulting in a misshapen mattress that cannot give the support needed for a comfortable night's sleep.
NightAirBeds.com offers a full range of adjustable beds that provide consumers a full range of comfort settings that traditional mattresses struggle to offer. Paired with an adjustable base, NightAirBeds.com offers consumers the ultimate in adjustable comfort.