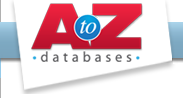 This next innovation will allow millions of Spanish-speaking library patrons to access our product
San Mateo, CA (PRWEB) June 26, 2013
AtoZdatabases, the leading provider of reference & marketing databases and job searches for public libraries, academic institutions, and government agencies, has just announced that it will soon be launching a Spanish-language version, giving millions more library patrons access to its one-stop shop database.
AtoZdatabases has been growing rapidly since its inception. More than 1,000 libraries across the U.S. currently offer the application to their patrons, and since 2010, the system has seen a 400% increase in searches and downloads. The company is continuously adding new features, and now it will offer a new user interface to accommodate Spanish-speaking users.
Spanish is now the second most commonly spoken language in the United States, with an approximate 35 million speakers and growing. According to the American Library Association, many libraries across the country have been making an effort to offer more access to information for Spanish speakers. The ALA also says that libraries can benefit from offering resources for this underserved population.
"Just this year, we have introduced free email marketing, updated our data to include census information, and now, this next innovation will allow millions of Spanish-speaking library patrons to access our product," says Rakesh Gupta, President of AtoZdatabases, "Our mission is to be an easy-to-use free tool in local libraries that allows patrons, students, and small businesses to find whatever information they may need."
For a FREE 30-Day trial of AtoZdatabases, please call toll-free at 877-428-0101 or email Sales(at)AtoZdatabases(dot)com.
About AtoZdatabases:
AtoZdatabases, powered by DatabaseUSA.com, is a leading provider of job searches, reference, and marketing databases for public libraries, academic institutions, and government agencies across the United States.