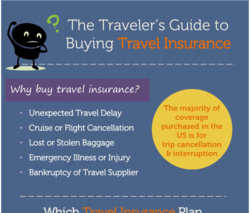 East Hartford, CT (PRWEB) June 27, 2013
Travel Insured International, a leading travel insurance company is pleased to announce the completion and release of its helpful new infographic titled "The Traveler's Guide to Buying Travel Insurance." This informative and attractive infographic offers tips for travelers on how to choose the perfect travel insurance policy to protect themselves as well as their travel investments.
"The Traveler's Guide to Buying Travel Insurance" explains that the majority of coverage purchased in the US is for trip cancellation and interruption – which is one of the most common disruptions that individuals often face during their travel experiences. The most beneficial reasons for why a traveler should purchase a policy are introduced including the opportunity to be reimbursed for unexpected delays, cruise or flight cancellation, lost or stolen baggage, emergency illness or injury, and even bankruptcy of the travel supplier.
The detailed inforgraphic then explores each of the benefits available in Travel Insured's most popular travel insurance policies, Worldwide Trip Protector Gold and Worldwide Trip Protector. With the benefits that each policy includes laid out in a bulleted format, choosing which policy would be best is made simple. Options to enhance a policy are also shared, including Cancel for Any Reason, Sports Coverage, Medical Upgrade, and many more.
Travel Insured strived to deliver an easy and visual way of helping travelers choose the best policy that's right for them with no confusion or hassle.
Click the following link to view The Traveler's Guide to Buying Travel Insurance:
http://www.travelinsured.com/about-us/infographic-travelers-guide
About Travel Insured:
Travel Insured International is the largest privately held travel protection companies in the US, and preferred supplier to over 5,000 travel agents, travel consortiums and wholesalers in the US and abroad. As a former division of the Travelers up until 1994, and originator of travel insurance in the US, you can say that the "travel protection" blood lines run deep. Travel Insured International's customer centric claims operation has significant expertise in both domestic and international claims administration.
Travel Insured International
52-S Oakland Ave.
E. Hartford, CT 06128-056