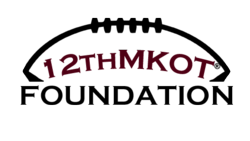 Corpus Christi, Laredo, and Alice, Texas (PRWEB) June 26, 2013
Former Texas A&M University Head Coach Jackie Sherrill, former Dallas Cowboy Tony Dorsett and multiple former Aggie football players are scheduled to appear, including Larry Kelm, Dat Nguyen, Mark Farris, Louis Cheek, Quentin Coryatt and Stephen McGee, to name a few.
The first night will be a casino night, which will kick-off at 6:30 p.m. June 27 at L&F Distributors in Corpus Christi. The second night in Laredo will be a casino night at L&F Distributors as well, and will begin at 6:30 p.m, June 28. The third event will be a golf tournament at Alice Municipal Golf Course; tee-off is at 10:00 a.m. June 29. Each event will include dinner, drinks, and a live and silent auction. A raffle will be held for prize distribution at the casino nights.
This three-day event will benefit Aggies in need through the 12th Man Kickoff Team Foundation. A portion of the proceeds will benefit Driscoll Children's Miracle Network and local A&M clubs. A check presentation will be held at Driscoll Children's Hospital Friday, June 28 at 11:00 a.m. Following the presentation, Coach Sherrill and the former players will visit the hospital's patients.
Individual tickets for the casino nights are $100 and the golf tournament is $250 per player. Sponsorship opportunities are still available.
For more information regarding registration and additional information, please email southtexastour(at)gmail(dot)com, or call Sandra Lara or Ashlee Probst at 361-883-1984.