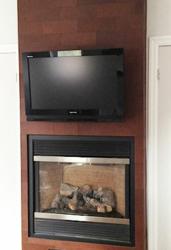 Blackstock Leather's magnetic leather wall tiles trigger the strongest of senses with the subtle but distinct aroma of leather.
Toronto, ON (PRWEB) June 27, 2013
Different from the Silk Road floor and wall tiles and different from the regular version of the Tapestry Magnetic leather wall tiles this version is "simple". Blackstock makes ordering and installing leather floor and wall tiles in different versions to fit just about any design and budget.
The Magnetic Leather Floor and wall tiles were introduced over ten years ago and have gained wide acceptance as an intelligent way of adhering leather tiles to floor and wall surfaces. Historically tiles have been installed using Latex contact cement and that is still a preferred method specifically for the Silk Road collection. However, magnetically adhered Leather floor tiles allow the owner to change the layout or enable the owner to relocate the tiles if they move. The Magnetic leather wall tiles of the Tapestry collection have had many successful installations where humidity fluctuation has been a problem.
The new "simple" version of Tapestry leather tiles allows the end user to not have to worry about a plywood substrate. The tiles are made from full natural grain mineral tanned leather. The adhesive is widely available latex based and allows the installer to position the tiles with the ability to reposition them before final placement.
The tiles are available in over two dozen sizes and over 300 colours through ten different quality ranges. The end user has virtually an unlimited range of color and size combinations to choose from. This enables end users to do small or large projects cost effectively. Whatever is desired, for leather wall or floor tiles, Blackstock has a range that will fit any budget and design criteria.
Blackstock is a family owned Leather company located north of Toronto Canada. It is operated from a building that has had three leather companies one famous, Spinneybeck, one saddler, Schleese Saddlery Service and now Blackstock Leather.
Rich in heritage and with over 60 years of combined leather experience we have all kinds of leather solutions for all design needs. http://www.blackstockleather.com