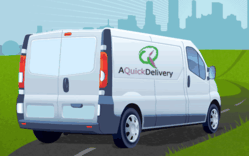 Atlanta, GA (PRWEB) June 27, 2013
AQuickDelivery, a recognized leader in same-day delivery, messenger and transportation services, announces early morning service requests. The Atlanta courier makes the announcement to its' clients in an effort to market service options, promote value-added services, increase customer loyalty, and sales growth. AQuickDelivery is a courier pursues to be the best choice in courier and same-day solutions throughout Georgia.
Early morning courier service requests are available to its' clients on a special request basis. These requests are any orders to be picked up and delivered prior to the normal daily time its' drivers begin, which is 8:00am. Customers that have these special requests must make the order via phone. The AQuickDelivery customer service staff will gather all the information regarding the special request and confirm with the dispatch department whether the early morning request can be performed. Most requests will be able to be picked up and delivered.
With early morning service requests, certain information will need to be provided to effectively perform the courier service request. The client will need to provide information relative to the origin location, such as the hours of operation, the contact person, and where will the driver pick up at the origin. For the destination, the client will need to provide information on where to deliver the package and other specific delivery information. Due to the early morning courier request being a special service, there is an additional charge applied.
Any early morning courier service requests made via online, customers will be notified and explained the typical service options offered. If the customer desires to still continue with an early morning order, the AQuickDelivery dispatch department will be notified and will confirm whether the courier can perform the special request, based upon all order information provided. AQuickDelivery also has a service type called Direct Service, which will pick up and deliver within one hour. The courier is available 24/7 to discuss any same-day delivery and early morning service needs.
AQuickDelivery is a premier Atlanta courier offering same-day delivery, transportation and distribution services throughout Georgia. From small packages to palletized freight, AQuickDelivery delivers fast. From Atlanta, Georgia, the courier provides same-day delivery successfully for over 1,500 clients, including Fortune 500 companies nationwide.