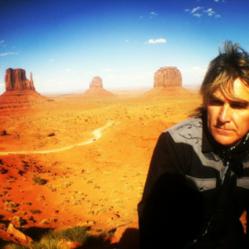 "I could see Mt. Snowdon from my hospital window and thought, 'When I recover, I'm going to march up that mountain as my symbolic climb back from cancer and raise money from my fans to support the cancer center and nurses who helped save my life.
Wales, United Kingdom (PRWEB) June 27, 2013
Love Hope Strength Foundation(LHSF), the world's leading rock and roll cancer foundation's Co-Founder, two-time cancer survivor and UK Rocker Mike Peters (pictured below) is emerging as one of the most visible advocates and activists for those living with and beating cancer around the world. Over the past three years, his organization has found 560 bone marrow donor and peripheral blood stem cell matches; built the first ever children cancer center in Tanzania; supported the Nepal Cancer Center with life saving equipment; and registered over 35,000 new donors through its Get On the List! program. More than 9,000 international recording artists now support the charity from holding marrow and blood stem cell registries at their concerts and from donations from select recordings.
Peters, front man of Welsh rock band The Alarm is once again facing the illness himself as he performs for three months with Scottish rock band Big Country on their first US tour in four years. Peters is meeting with politicians, filming his second documentary, climbing mountains, performing at shows where donors are being registered, all while undergoing chemotherapy.
Ultimately, Peters may indeed need his own marrow donor.
The idea to climb mountains and perform concerts came when Mike was in the hospital going through his second battle with cancer. Peters said, "I could see Mt. Snowdon from my hospital window and thought to myself, 'When I recover, I'm going to march up that mountain as my symbolic climb back from cancer and raise money from my fans to support the cancer center and nurses that helped save my life.'"
After much petitioning by Peters and LHSF, for the first-time ever, members of the House of Commons and MPs had their cheeks swabbed earlier this month in London inside Parliament. The symbolic drive illustrated the new regulations which include the launch of the first cotton swab testing program, previously only available via blood donation, and increase in eligible donor age limits from 30 to 55. Half the people in Britain who need a lifesaving blood stem cell donor do not ever find a match and this initiative will open the registry to millions of new potential donors. In the US, the WWE has jumped in to support, and for the first-time ever, held a bone marrow registry at one of their sold-out wrestling events in Connecticut that will be broadcast later this summer. Adding donors from the UK and US will not only save Brits and Americans but can save other people of English descent around the world.
This past weekend, Peters participated in a climb with 400 hikers, performing with other artists and survivors at Vail Rocks, Brett Dennen, Miles Zuniga of Fastball, Big Country, and The Fixx. The annual LHS event raised $100,000 and featured a Schomp MINI dedicated to "Get on the List," the mobile campaign that comes to concerts, events and Vail Rocks, looking for donors.
Cancer survivor and successful bone marrow recipient James Chippendale from Dallas, whose life-saving bone marrow transplant was featured in the recent documentary, More to Live For, co-founded the charity with Peters.
Peters said, "Chippendale's German donor was 42 when he saved James' life. If Germany had the same regulations as Britain did, than James would not be alive. We had to make this change, which will save thousands more lives!"
This duo have taken their message around the world, performing concerts atop some of the world's highest mountains such as Mt. Everest (chronicled in a documentary Everest Rocks), Kilimanjaro, Machu Picchu, Mt Fuji, Pike's Peak, Mt. Snowdon, and more.
"Thousands of people from around the world die every year simply because they can't find a match. The match is out there for everyone; they just have not been found. That is our life mission-seeing that everyone that needs a donor has one. It's that simple! Equally simple is the process - a simple cotton swab of the cheek - to get on the registry. In most cases, it is similar to donating platelets or plasma, but most don't know this and it is our job to get the message out to as many people as possible," said Chippendale.
Founded in 2006, Love Hope Strength Foundation is a US and UK-based foundation saving lives through hosting a bone marrow peripheral blood stem cell international registry and fundraising campaign to establish cancer treatment facilities in underdeveloped areas around the globe. Over the past 3 years, LHS has conducted drives at 900 concerts and festivals each year (Bonnaroo, Austin City Limits, Lollapalooza ) and have enlisted top recording artists such as Enrique Iglesias, Linkin Park, George Strait, Kenny Chesney, Robert Plant, and more. You do not have to go to a concert to register just go online here. They are currently expanding their reach by establishing a campaign in Mexico to register donors of Mexican descent.
Love Hope Strength Foundation Official Drive Partner
Delete Blood Cancer
Mike Peters Personal Blog
http://mikepeters2013.wordpress.com
Important Links
http://www.facebook.com/LoveHopeStrength
http://www.facebook.com/LHSUK
Twitter @LHSF
Big Country US Tour
http://BigCountry.co.uk
Facebook https://www.facebook.com/inabigcountry
Twitter @BigCountryUK