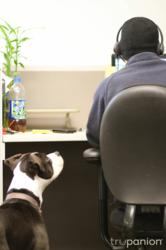 Pets are part of our families and are also integral members of our teams at work. They are there to make sure we are acting in their best interest! -- Dr. Kerri Marshall
Seattle, Wash. (PRWEB) June 27, 2013
To coincide with Take Your Dog to Work Day on Friday, June 21, Trupanion, the leading provider of pet insurance in North America, launched a survey to see how people really felt about pets in the workplace. Is a pet-friendly workplace (like Trupanion, for example, which encourages all 250 employees to bring their dogs and cats to work) really something pet owners are looking for? Survey results said yes.
Of the 134 survey respondents, 97% owned at least one pet and 66% worked in an office that was not currently pet-friendly. But a whopping 86% said they think more highly of a company if it is a pet-friendly company and 43% said a pet-friendly workplace is a factor in choosing where they would like to work.
"I would take a pay cut to leave my current employer of 10 years to go and work for a pet friendly company," said one pet owner. "My dog is my best friend and being able to spend all day with my dog would be extremely valuable to me."
69% of respondents noted that the best benefits of having their pet at work are stress relief, socialization for the pet, and simply having their pet by their side all day. 37% said that the daily exercise they get from their pets was another benefit.
"I find that our clients come in with a smile as they are greeted at the door by my dog and no one seems to leave without stopping to give him tummy rubs on the way out," said one respondent. "It's great for morale too."
While the majority of respondents highly praised pets in the workplace, there was a selection of people who weren't so supportive. Respondents noted that the distraction pets present in the workplace was the biggest drawback, followed by the potential for allergies suffered by co-workers.
"As a pet owner who loves her pet and all the pets I get to meet, I find it extremely disrespectful and inappropriate for us to forget that some people are uncomfortable around our pets or have allergies to them," noted one respondent. "The workplace is not a place for our pets to be. I love sharing my rabbit with others, but I also want to respect their feelings and needs as well."
This is a valid concern, and one addressed by Trupanion in their office Pet Policy. "It's expected that all employees will respect co-workers and talk constructively through any issues that come up," said Dr. Kerri Marshall, Chief Veterinary Officer at Trupanion. "An escalation process is also in place to handle incidents that cannot be resolved."
Dr. Marshall also addresses the allergy concern.
"We do have employees with pet allergies in our office, and we respect them and make accommodations that help them manage their symptoms in alignment with their doctor's recommendation," said Dr. Marshall. "But we also know that we may be discouraging talent from joining our team because of our environment. We take that risk, because we see the incredible benefit pets bring – including high employee satisfaction and retention, increased company morale, and less overall stress. We also care deeply about the pets. Pets are part of our families and are also integral members of our teams at work. They are there to make sure we are acting in their best interest!"
Trupanion Board members have also been known to hold pets while considering important strategic decisions. Pets embody and model the Trupanion culture that is represented by the Oscar Wilde quote above the Trupanion entrance: "Be yourself, everyone else is taken".
Have a question about Trupanion's pets in the workplace? Check out Trupanion.com/pets-in-the-workplace or email Trupanion at petsatwork(at)trupanion(dot)com.
About Trupanion®
Trupanion is an industry leader in pet insurance, offering cat and dog insurance in the United States, Canada and Puerto Rico with the mission of delivering financial peace of mind to pet owners. Trupanion's corporate culture includes an office with 250 employees and 90 dogs and cats (a 3:1 human to pet ratio); full-time dog walking service; 97.8% employee retention; and a 98.5% customer retention rate month over month.
Trupanion, Inc. owns and is underwritten by the American Pet Insurance Company, which has earned a Financial Stability Rating® of A, Exceptional, from Demotech, Inc. Trupanion is a founding member of the North American Pet Health Insurance Association (NAPHIA), demonstrating a commitment to high standards and transparency in all actions and products. For more information call 800-569-7913 or visit Trupanion.com. You can also follow Trupanion on Twitter or Facebook.