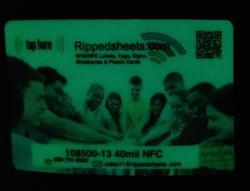 any size or shape laminated card, the applications are limited only by your imagination
Benton City, WA (PRWEB) June 28, 2013
Rippedsheets.com is paving the way with endless options for laminated cards and tags. Get glow-in-the-dark, dry erase, counter mats, and NFC cards or tags with the option of a grommet added. These can be 30 or 40 mil plastic cards that are not only durable but waterproof as well.
NFC Cards
The newest option is the ability to add NFC inlays into the card or tag. NFC cards or tags can be used for access control, inventory control, location information, marketing campaigns, business cards, and much more. With the ability to put any NFC inlay into any size or shape laminated card, the applications are limited only by the imagination.
Dry Erase
Dry erase is another new option that has been added. These also have the option of removable, permanent, or industrial-strength adhesive being added to the back. Customizable dry erase boards are available with any print design and any shape, making it perfect for home or office use.
Glow-In-The-Dark Cards
Ever lose a card in the dark? Make them easier to find with glow-in-the-dark cards that can be personalized with a logo, business name, promotional product, or any other information. These only require a short time in the light to glow in the dark.
Counter Mats
The counter mats consist of a bright white material that can have either a glossy or matte finish with black foam that is adhered to the bottom side. This creates a high quality, durable, waterproof counter mat that can be used for displays, service counters, checkout counters, or at home.
But why stop there? Get a glow-in-the-dark dry erase board or a luggage tag with an NFC inlay? If the tag can be imagined then it can be made. And if the material is not carried in stock then a manufacturer will be quickly found to meet the material needs.
Rippedsheets.com has a full color digital printing facility with the latest technology in printing and can print 2D and 3D barcodes, variable data, serial numbers, or any other print design on the custom tag or card. In a very unique process short run plastic cards and tags can be printed and diecut to any shape or size in just 48 hours.
Rippedsheets.com is also a label and tag print provider for resellers. Just send in the custom label or tag order and it can be blind shipped to the customer. All orders for resellers can be blind shipped from in 24-48 hours. Please visit the website or call 1-888-791-9590 to order custom laminated cards or tags today.