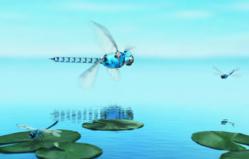 Hauppauge, NY (PRWEB) June 28, 2013
Festo released an illustrated brochure detailing the materials, controls, and flight capabilities of its BionicOpter – the flying bionic dragonfly – that debuted in Europe in April. Designers, engineers, educators, students, and technophiles will find the information in the downloadable backgrounder accessible and interesting, if not downright fascinating.
After bird flight had been deciphered with the SmartBird in 2010, developers took on their next-biggest challenge in the Bionic Learning Network: modeling the dragonfly at a technical level. The BionicOpter is an ultra-light flying object. Just like a dragonfly, the BionicOpter can fly in all directions and execute complicated flight manoeuvres. The BionicOpter's ability to move each of its four wings independently enables it to slow down and turn abruptly, to accelerate swiftly, and even to fly backwards. This means that for the first time there is a model that can master all the flight conditions of a helicopter, plane, and even a glider. Despite its complexity, the highly integrated system can be operated easily and intuitively via a smartphone.
This unique way of flying is made possible by lightweight construction and the integration of functions: components such as sensors, actuators, and mechanical components as well as open- and closed-loop control systems are installed in a very tight space and adapted to one another. The flapping frequency, amplitude, and angle of incidence are controlled by software and electronics; the pilot just has to steer the dragonfly – there is no need to coordinate the complex motion sequences.
The principles of ultra-lightweight construction are applied throughout the flying object. With a wingspan of 24.8 inches (63 cm) and a body length of 17.3 inches (44 cm), the model dragonfly weighs just 6.2 ounces (175 grams). The wings consist of a carbon-fiber frame with a thin foil covering. The intelligent kinematics corrects any vibrations during flight and ensures flight stability. In order to stabilize the flying object, data on the position and the twisting of the wings is continuously recorded and evaluated in real time during the flight of the dragonfly.
Each year, Festo's Bionic Learning Network provides new inspiration for automation technology and these developments are introduced at the Hannover Trade Fair in Germany. As a global manufacturer of pneumatic and electronic automation technology, Festo's core business is helping to shape the production and working environments of the future and offering its customers innovative solutions for the production systems of tomorrow and beyond. Festo's Bionic Learning Network projects are purely for research. These research products do sometimes lead to concepts, partial implementations, or even full implementations being transferred into real world developments. For example, the Bionic Elephant's Trunk from 2010 is today being developed as an automated robotic handling assistant.
Visit the BionicOpter webpage for the brochure and for flight videos. Visit the Bionic Learning Network webpage for past and present projects, including written and video presentations. For more information on Festo automation solutions in a host of industries and applications, call Festo at 800-993-3786 and visit http://www.festo.com/us.