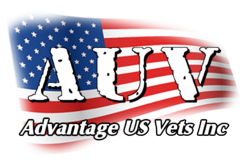 Clayville, NY (PRWEB) June 27, 2013
Advantage US Vets Inc. (AUV) is committed to its goal for recently discharged unemployed veterans: to provide good jobs with good pay, training and assistance with activities to promote personal well-being. AUV will deliver its holistic programs in a safe, beautiful rural farmstead community adjacent to a cluster of nearby historic and beautiful communities in the Greater Rochester, Finger Lakes Western New York area.
Trustees' surveys of several properties make a 70-acre property south of Rochester a primary candidate. It offers land-use and space for AUV's multi-faceted programs: Fertile soil for organic farming, pastures and shelters for rescued horses and dogs, and a handicap-adaptable house for the lodge. It also would provide recreational, social and life-renewing activities in every direction.
AUV's programs will cost approximately $1.5 million in the first year, including property purchases, essential improvements and first-year salaries and wages for staff (recently discharged unemployed veterans).
"The house is solid," said AUV Treasurer George C. Schaffner, CPA, after visiting the property and the atmosphere is warm and welcoming in its simplicity. Along with the sustainable farming potential, the grounds will hold designated areas for several ball sports. With the addition of a greenhouse, the fields, the house and grounds propel the AUV goals forward: to assist veterans during their transitions in a safe companionable environment with holistic activities.
To accomplish its $1.5-million goal, AUV seeks community and financial support. The trustees' timeline to open the Roots & Sprouts Farmstead is September 30, to complete acquisition and to start hiring vets.
As a result, the trustees are asking corporations and individuals across the United States who care about the well-being of our unemployed forgotten heroes to contribute now and generously. Please visit our website to learn more, and to donate.
Young US. military personnel volunteered to serve their country, and now it's the turn of average Americans to serve them. Americans can show they care with contributions which in turn will provide the community, earned income, and activities they deserve while they take their places in civilian society.
The Finger Lakes-Greater Rochester area property offers significant potential for community and positive outcomes for our veterans, according to David O. Drake, AUV trustee and retired New York National Guardsman. It's important that we move with dispatch.
"This is AUV's opportunity to connect our vision to reality," Drake said. "Let's make our forefathers proud: join us by contributing now. Together we can assist our heroes, helping them to make successful transitions to civilian life. Together we can make a difference."
About Advantage U.S. Vets
Advantage U.S. Vets (AUV) is a veteran-driven, non-profit organization aimed at improving the employment picture for recently returning honorably discharged American veterans from all branches of the armed forces. All members of the volunteer Board of Trustees have a veteran connection. For further information, please visit http://www.advantageusvets.org
Contact:
Betsy Browne, Executive Director, (315) 737-8685, betsybrowne(at)advantageusvets(dot)org
Scott Nance, Director of Strategy and Public Affairs, (301) 515-0749, scottnance(at)advantageusvets(dot)org