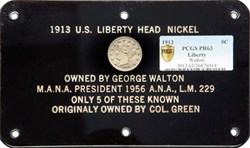 Minneapolis, MN (PRWEB) June 27, 2013
New York Mint®, the world's leading source and direct marketer of high-value collectible coins, hosted the extremely rare 1913 Liberty Head Nickel at their headquarters in Minneapolis, Minnesota on Tuesday. The 1913 Liberty Head Nickel was auctioned to two co-buyers on April 25th. The 1913 Liberty Head Nickel is one of only five known to exist today, and the story of this coin is just as fascinating. The coin was struck in 1912 and was later discovered with its owner, a coin collector, who died in a car crash in 1962. The nickel was discovered scattered among other coins at the crash site. The nickel was inherited by his sister and was kept in a box with other family items for over four decades. The coin was later confirmed as the long-lost fifth coin at the 2003 at the American Numismatic Association Conference.
The coin was offered for sale by four Virginia siblings at a rare-coin and –currency auction in Schaumburg, Illinois in April. The winning bidders of the 1913 Liberty Head Nickel were two men who bought the coin in partnership. One of the partners, Jeff Garrett, accompanied the coin to New York Mint's headquarters this week where a showing was held allowing New York Mint employees an opportunity to see this nickel up close and personal. "New York Mint is enthused to host Jeff Garrett and his historic 1913 Liberty Head Nickel at New York Mint's headquarters. It is truly a once in a lifetime opportunity for our staff to see this story-rich coin in-person," said New York Mint President Bill Gale. The nickel was on display at New York Mint's offices for a few hours for a scheduled showing among New York Mint's numismatic enthusiasts.
About New York Mint®
Since 1984, New York Mint, LLC has been a private distributor of coin and currency issues and privately issued licensed collectibles. New York Mint provides collectors with one-stop access to some of the finest quality, rarest and most sought-after coins from worldwide government mints, shipwrecks, ancient hoards and exotic locales. The treasures secured by New York Mint span historic eras from ancient times, through the American Civil War, and up to the most contemporary milestones and events. New York Mint partners with the Smithsonian Institution®, government mints and monetary authorities, distributors and wholesale dealers worldwide. Recently, they were U.S. distributors for the London 2012 Olympic Games Coin Program. For additional information, visit http://www.NewYorkMint.com or call 800 642 9160.
Source: New York Mint
Contacts
Business Development: Sara Fehrenbacher (sfehrenbacher(at)amsi-corp(dot)com) + 1 952 707 7296