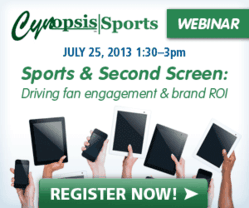 New York, NY (PRWEB) June 28, 2013
Join Cynopsis Sports on July 25 for the "Sports & Second Screen: Driving Fan Engagement and Brand ROI" webinar to get the latest insights, case studies and tactics to take advantage of the second screen experience, which is rapidly changing the face of the sports world. Beyond the broadcast of live events, the second screen - from mobile to tablet, to laptops - is an increasingly valuable tool for fan engagement and brand ROI. We'll share who is leveraging these opportunities most effectively and what can be gleaned from their examples.
Expert speakers Rob Shaw (VP, Content/Media at Bloomberg Sports), Gus Weber (Sr. Director of Digital Products at ESPN) and Chris Lencheski (President at Front Row Marketing Service) with Special Guest Hall of Fame Coach Barry Switzer, will share smart, proven strategies and tactics that have led to successful engagement with their audiences.
This 90-minute webinar will address such topics as:

Using the second screen to increase fan engagement to share and strengthen the link between broadcast and consumers
Creating and optimizing original content on social media platforms such as Facebook, Twitter, Pinterest, Vine and Reditt to extend ties with fans
Increasing viewer loyalty through second screen exclusive video, real time interviews, fan feedback, and brand promotions
Harnessing and deploying meaningful data from your audience on spending habits, effective promotions and when and how they interact with their favorite athletes, teams, and leagues.
This interactive webinar will allow for real time Q&A's to ensure specific questions are answered.
To register for the Sports Webinar: Sports & Second Screen: Driving Fan Engagement and Brand ROI, visit: http://www.cynopsis.com/webinars/sports-and-second-screen/
Webinar attendees receive full access to speaker presentations along with a certificate of completion. Webinar tuition is based on location, not number of participants, so each registration site can have multiple participants for one low price. Questions? Contact Trish Pihonak at trish(at)cynopsis(dot)com.
About Cynopsis Media
Cynopsis Media is a division of Access Intelligence LLC. The Cynopsis Media family of products includes Cynopsis, Cynopsis: Digital and Cynopsis: Sports daily e-publications, weekly Cynopsis: Kids and Cynopsis: Classified Advantage e-publications, Special eReports, Event/Summits and a strong database of Classifieds and more. Visit cynopsis.com.
###