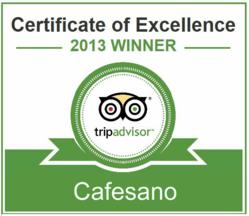 We were honored to receive this special recognition from TripAdvisor and are especially thankful to our guests for their very kind reviews.
Reston, VA (PRWEB) June 27, 2013
Fresh-casual Reston, Va. café known in Northern Virginia for its Italian & Mediterranean cuisine and scenic location, Cafesano was a recipient of the 2013 TripAdvisor Certificate of Excellence that honors high achievements in hospitality and customer service.
This prestigious award indicates that Cafesano has joined top-performing businesses listed on TripAdvisor, an honor given only to 10 percent of businesses worldwide. "We were honored to receive this special recognition from TripAdvisor and are especially thankful to our guests for their very kind reviews," commented Paul Swinley, owner of Cafesano.
According to TripAdvisor, the criteria for choosing the Certificate of Excellence recipients largely depend on user reviews. To qualify for the award, a business must maintain a rating of four or higher (out of five) and be listed on the site for at least 1 full year. The volume of the reviews is also taken into account.
The rating is determined by TripAdvisor users who can provide separate scores for restaurant's food, service, value and atmosphere on a scale from terrible (1) to excellent (5).
"Prices are decent, it is nicely decorated, food is good, and staff is friendly. Need more places like this serving good fresh food quickly," said one TripAdvisor user about Cafesano. "I live in Herndon and wish Cafesano was closer, but it is worth traveling for," shared another reviewer.
"These reviews tell us how many different people find value in our food and service – from locals and employees of nearby businesses to out-of-town (and even out-of-state) guests who have heard from friends that we are the best restaurant in Northern Virginia," shared Joanne McDaniel, marketing director at Cafesano.
Cafesano is currently ranked number one out of 87 restaurants in Reston, Va., on TripAdvisor, based on 64 reviews from the website's community. The reviewers consistently mention the café's casual vibe, family-friendly atmosphere, contemporary décor and excellent food.
In 2012, Northern Virginia Magazine named Cafesano the best place for lunch in the Fairfax County as a part of the "Best of NOVA" ranking. "This award was especially meaningful because it was based on votes received from the readers (our guests) of Northern Virginia Magazine," pointed out McDaniel.
About Cafesano
Cafesano has been serving the communities of Reston, Herndon, Tyson's Corner, as well as other areas in Northern Virginia and Washington, DC since 2005. Both local residents and out-of-state guests come to Cafesano to enjoy Italian & Mediterranean cuisine, casual atmosphere and waterfront views. The restaurant's menu includes a variety of items from wraps and panini to pasta, pizzas and kabob platters. For more information, please visit cafesano.com.