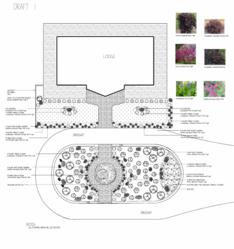 Collettsville, NC (PRWEB) June 27, 2013
The Coves at Round Mountain, North Carolina's premier planned mountain community, has announced its involvement in utilizing the various flora that exist in the North Carolina mountains to landscape the breathtaking Pisgah Mountain Lodge. The lodge is referred to as a "community amenity" in the North Carolina mountains, with a top level that boasts a genuine mountain lodge setting with large kitchen, seating areas and lending library. The outside of the lodge – where The Coves will be initializing its flora plan – presents the perfect opportunity for the inclusion of beautiful and exotic landscaping what with its expansive decking, sitting areas, fire pits and infinity pool.
North Carolina plays host to approximately 300 species and subspecies of trees and nearly 3,000 varieties of flowering plants. The profusion of plants reaches what many have called "extraordinary proportions" in the mountain areas of the state, with deciduous forests on the lower slopes encompassing such variants as Carolina hemlock, silver bell, yellow buckeye, white basswood, sugar maple, yellow birch, beech and tulip poplar in addition to the "common trees" of the piedmont.
The flora that has been chosen by The Coves at Round Mountain to envelop and further beautify the lodge consist of Ruby Falls Eastern Redbud, Don Egolf Redbud, Bluebeard, Dwarf Fringe "Crimson Fire," Daruma Fringe "Darumd," Blush Pink Dwarf Nandna, Prelude Andromeda, Goldmound Sparea and Happy Returns Butterfly.
The Pisgah Mountain Lodge is comfortably nestled at the summit of The Coves and boasts 360-degree views and over 6,000 square-feet of sprawling floor space. Within its richly-decorated walls resides an atmosphere that perfectly lends itself to reading by a fire, enjoying a glass of wine, gathering with family, entertaining guests or preparing a meal. On the lower level of this stunning amenity resides a state-of-the-art fitness center, locker room, showers, exercise room and massage room which overlooks sweeping Grandfather and Table Rock Mountains.
For more information about The Coves at Round Mountain and its Pisgah Lodge, visit http://www.thecovesnc.com or call 828 394-4541.