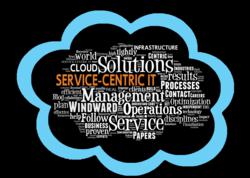 Our clients are realizing value of Cloud today -- reduced operational costs and improved agility.
Herndon, VA (PRWEB) June 27, 2013
Windward IT Solutions, the pioneer in Service-Centric IT solutions, has solidified its proven cloud management expertise by announcing an 800% increase number of IT service automation and Cloud deployments year-over-year since 2010. This rapid increase in automation and Cloud projects clearly shows the demand for automated, private, and elastic computing needs in the Fortune 500 and Federal Government environments, as well as trusted advisors like Windward to deploy these capabilities.
Windward's standard value proposition and approach of acting as the trusted advisor to align people, processes, and technology is key to designing and deploying Cloud solutions. Windward's expertise spans over numerous projects ranging from developing overall cloud strategies, to defining and implementing Cloud services within internal datacenters. Windward is a strong strategic partner to IT leaders and visionaries who are driving their organizations into the Cloud and transforming into Service-Centric IT organizations.
"IT Service Management and a developed Service-Centric IT strategy is arguably one of the most important points of entry to become involved with a company's Cloud initiatives, as ITSM will be defining what Cloud means to the company for the future," said Rich Moraski, Director of Cloud Automation. "With so many possible interpretations of 'cloud,' helping steer an organization and providing them with our wide range of real-world deployment experience will provide our clients with the greatest success and long term benefit."
As an early adapter of process automation technology, the foundational fabric of Cloud computing, Windward has a proven set of technology-independent expertise in the three core disciplines that encompass Cloud: Service Management (the 'planning'), Infrastructure Management ('building' the deployment platforms), and Operations Management ('running' the infrastructure). "Windward has earned recognition as a leader in making Cloud computing a reality, not just an academic exercise. Our clients are realizing value of Cloud today -- reduced operational costs and improved agility," said CEO and Founder Sean McDermott.
ABOUT WINDWARD IT SOLUTIONS
Founded in 1997, Windward IT Solutions is at the forefront of Service-Centric IT. With strategic consulting, unparalleled technical expertise, and our proven Windward Service-Centric IT Roadmap, we help our clients align the core competencies of process, organization, information, and technology to effectively address business and mission priorities. Windward is headquartered in Herndon, VA. More information on the company can be found online at: http://www.windwardits.com.