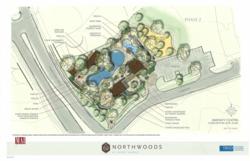 Northwoods is connected to nature, north Austin, and mass transit to downtown Austin. I'd like for Northwoods to be the start of a conservation trend in suburban development.

Gary Newman,
Trio Development President
AUSTIN, TEXAS (PRWEB) June 27, 2013
Today, Northwoods at Avery Ranch was recognized as the first land development in Texas to achieve a four-star rating to the ICC 700 National Green Building Standard™ (NGBS). The project developers shared the news at an event unveiling both the certification and the development's first three complete model home parks. The new master-planned community in north Austin is the first development in Texas to obtain a four-star rating from Home Innovation Research Labs (formerly the NAHB Research Center) in its third-party NGBS Green Certification Program.
Northwoods at Avery Ranch encompasses 182 acres in north Austin and is immediately north of and within walking distance of the Lakeline MetroRail station. The developer of the community is Austin-based Trio Development, and homebuilders Drees Custom Homes, Standard Pacific Homes and Grand Haven Homes are building in three distinct sections of the community: The Estates, The Manors and The Cottages. Model home parks from each homebuilder are complete and builder sales offices are open at Northwoods. Home models are accessible from the intersection of Staked Plains Dr. and Lakeline Blvd.
Trio designed the Northwoods community with sustainability and conservation in mind, featuring a site plan tailored to protect over 6,000 old growth trees; water-wise landscaping; and an amenity center incorporating deep eaves, natural ventilation and native materials. Additionally, materials typically discarded during construction were reused and recycled, or repurposed: removed trees were converted to mulch and limestone boulders were pulverized and used as road base.
Home Innovation Research Labs certifies new and remodeled homes and residential land developments according to the rigorous requirements of the NGBS – the only residential green building rating system approved by ANSI as an American National Standard. The NGBS, originally approved by ANSI in 2009 and recently updated and approved in 2012, provides practices for the design and construction of all types of green residential buildings, renovations, and land developments. In contrast to LEED certification, NGBS criteria can be applied to urban, suburban and rural land development.
Builders with green design and construction practices were recruited to build in Northwoods and to support the overall sustainability of the neighborhood. "Northwoods is connected to nature, north Austin, and mass transit to downtown Austin," said Trio Development President Gary Newman. "I'd like for Northwoods to be the start of a conservation trend in suburban development."
More information about Northwoods at Avery Ranch is available at http://northwoodsataveryranch.com/.
About Trio Development:
Trio Development is an Austin-based real estate development firm specializing in family and adult residential communities. Stewardship of land, trees, and the environment is central to the company's work, which includes development, entitlements, and conservation. Current Trio Development projects include Northwoods at Avery Ranch and Pearson Place at Avery Ranch.