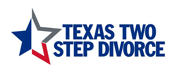 Dallas, Texas (PRWEB) June 27, 2013
"Lawyers are expensive, divorce doesn't have to be," says website owner Zac Copp, who made the announcement. An attorney himself, Copp created the site to afford couples who are considering uncontested divorce with simple, easy-to-complete and inexpensive divorce papers.
Texastwostepdivorce.com is designed so that couples planning to file for a divorce can have prepared and ready-to-file divorce papers in just two simple steps. What's more, the divorce papers from Texastwostepdivorce.com have been prepared by a Texas attorney, and are Texas-specific.
Visitors to the website can simply download the Texas divorce kit in Microsoft® Word or PDF format, then sign and file. "Unlike some of our competitors, we do not force you to fill in the blanks. We even include instructions on how, when, and where to file your completed Texas divorce forms," points out Copp.
Besides downloading the complete and customized Texas divorce forms, the recipient also receives:

Immediate access to forms without blanks;
Easy-to-understand instructions utilizing our Texas two-step divorce™ process;
100% guarantee that our divorce forms will be accepted by each and every divorce court in all 254 Texas counties;
Fast, reliable and free customer support from our Better Business Bureau accredited company based in Dallas, Texas;
Full editing capabilities of your Texas divorce forms; and
No hidden charges.
"Our simple online divorce solution makes your divorce less expensive and less stressful for you," says Copp.
For further information on how to download uncontested divorce forms in Texas and filing for divorce online, please visit the company's website at http://www.texastwostepdivorce.com
###