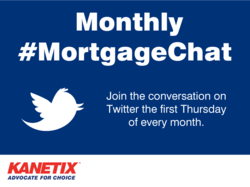 TORONTO, ONTARIO (PRWEB) June 28, 2013
KANETIX.ca is hosting its third monthly Mortgage Chat over the Twitter social media platform discussing a variety of down payment options for homebuyers. The topic of discussion will explore payment options from RRSPs to Gifted Money.
The hour long chat on July 4 at 1 p.m. EST will feature mortgage agents Brad Compton and Elfie Hayes from Invis-Mortgage Intelligence. Both participants bring with them a combined experience of more than 40 years of helping homebuyers obtain mortgages for the home of their dreams.
Participants can get involved in the conversation by following the Mortgage Chat hashtag #MortgageChat on Twitter and ask questions or offer insight about their mortgage experience as a homeowner. Past chats included such topics as Refinancing a Mortgage and Qualifying for a Mortgage. Future topics of discussion are:
•August 1, 2013 - Costs involved in Buying a Home
•September 5, 2013 - Managing your Mortgage
•October 3, 2013 - Mortgages and the Law
•November 7, 2013 - Mortgage Types: Fixed vs. Variable
•December 5, 2013 - CMHC Mortgage Loan Insurance
All participants who participate in the Mortgage Chat will be automatically entered to win a $100 Home Depot gift card.
About Invis-Mortgage Intelligence
Invis-Mortgage Intelligence is one of the largest and most respected national mortgage brokerages in Canada. Over 1,100 mortgage consultants help Canadians meet their homeownership goals through access to over 50 lenders. Since 1989, Invis-Mortgage Intelligence has arranged over $125 billion in mortgage financing, with over 600,000 satisfied customers. The company operates in four key business lines - Residential Mortgages; Commercial Mortgages: Mortgage Life, Disability and Critical Illness Insurance; Commercial Leasing and Consumer Finance. http://www.invis.ca | http://www.migroup.ca
About Kanetix®
Launched in October 1999, KANETIX was Canada's first online insurance marketplace and today provides over a million quotes per year to consumers looking for insurance, as well as comparisons for mortgage rates and credit cards.
The KANETIX comparison service is a one-stop shopping environment for consumers. Each day, thousands visit the KANETIX website at http://www.kanetix.ca to comparison shop their various financial needs. Shoppers choose what they want to compare, obtain a quotation and complete an online application or, with the help of KANETIX connect with the provider to purchase or apply for the product over the phone.
Through its Software as a Service team, KANETIX is also the leading provider of online insurance quotation technology, developing online quotation systems, mobile solutions, actuarial tools and websites for many of Canada's largest insurance brands.
For more information, visit KANETIX.ca or contact:
Natasha Carr
416.599.9779 ext. 343
publicrelations(at)kanetix(dot)ca
Kanetix Ltd.