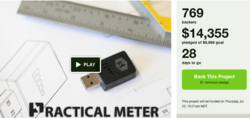 New York, NY (PRWEB) June 26, 2013
After a speedy launch on Kickstarter, the Practical Meter achieved it's $10,000 goal in just 13 hours. So far, over 750 people have pledged to get their hands on one. The tiny USB meter tells users how fast their smartphone is charging. It highlights a very common problem that no one seems to know about. The problem is, most computers charge smartphones at less than 50% speed by default. There are numerous reasons for this, but Power Practical is offering the diagnosis and fix for $19 on their Kickstarter campaign.
The campaign opened yesterday around 12:30 p.m. It quickly broke the 5-grand mark and funded at 10k in the early AM. It is one of the fastest Kickstarter projects to reach a goal of over $5,000. The most popular reward is the Practical Meter bundle that includes a 3-in-1 charge-only cables that maximizes power draw.
The device was recently reviewed on Extreme Tech by Sebastian Anthony. USB charging is actually quite inconsistent, Anthony said, and until now there was little clarity on the matter. "The short answer, then, if you want to charge your smartphone or tablet as quickly as possible, is to get a Practical Meter."
Now that funding is secured, the Practical Meter will be headed for mass production at the end of its campaign. The company hopes the device will help raise awareness of inconsistency in USB charging world. To learn more, check out the Practical Meter Kickstarter campaign.