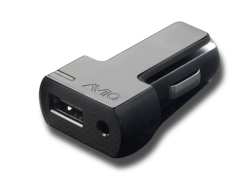 Santa Ana, CA (PRWEB) June 27, 2013
AViiQ announces the launch of the new AViiQ Portable USB Car Charger, the perfect travel companion and addition to the AViiQ Portable Charging Station series of products. The AViiQ Portable USB Car Charger features a ultra thin profile DC connector, perfect for use in automobiles, boats and trains. The charger also includes a single USB 2.0 port for powering any USB powered mobile devices including smart phones and tables. Additionally the adapter includes a DC output port with a DC to DC cable which is designed to power any of the AViiQ Portable Charging Stations directly.
The AViiQ Portable USB Car Charger is one of the smallest two amp USB DC adapters on the market and is designed to easily fit into any bag or pouch easily. Additionally it includes a elegantly designed clip for easily clipping the adapter to a bag pocket or luggage and avoid digging through baggage to find it.
The AViiQ Portable USB Car Charger also features a two amp power conversion meaning that most USB powered devices will charge quicker and in half the time in many cases, even with the some tablets.
AViiQ Portable USB Car Charger comes with a 100% satisfaction guarantee, a full refund policy within 30 days of purchase and is available for $15.99 at http://www.AViiQ.com. Also for a limited time, the AViiQ Portable USB Car Charger is included free with the purchase of any AViiQ Portable Charging Station (limit 1 per order). For more information about this and the entire line of AViiQ products, contact PR representative Alan Yeung at alan(at)aviiq(dot)com.
Find it at these online retail partners: AViiQ.com.
ABOUT AVIIQ
AViiQ adheres to the tenet that form should follow function.  Founded to create consumer mobile electronic accessories that maximize productivity through enhanced functionality and high-end design, AViiQ offers the finest in function and style.  Laptops revolutionized the computer world by adding the freedom of mobility and AViiQ transforms that freedom into power.  For more information about AViiQ please visit http://www.AViiQ.com.