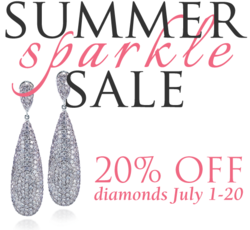 Chappaqua, NY (PRWEB) June 27, 2013
Desires by Mikolay is delighted to offer 20% off on select diamond pieces to ensure that all dive into the heat of summer looking glamorous. Beginning on Monday, July 1st, this incredible sale continues until Saturday, July 20th.
Come experience the first ever Summer Sparkle Sale for unbelievable deals. As July arrives so does an amazing opportunity at Desires by Mikolay to spice up any summer outfit. It would be a shame to miss this fabulous chance to get sparkly diamonds at savvy sale prices.
Desires by Mikolay is located at 55 King Street in Chappaqua, New York. For more information, contact info(at)desiresbymikolay(dot)com and be sure to check out some of the items on sale at desiresbymikolay.com.