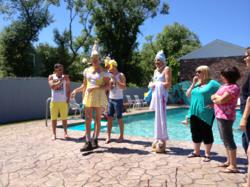 The Cape Colony Inn has seen a huge influx of positive reviews on social sites such as TripAdvisor, climbing to
number 4 out of all Ptown hotels. - Gregory Kiep, Owner of Kiep Marketing
Provincetown, MA (PRWEB) June 28, 2013
On Saturday, June 15, Malcolm Neitzey hosted an entertaining event at the newly renovated Cape Colony Inn in Provincetown, Massachusetts. The event of about 50 people took place from 1:00 until 3:30 in the afternoon around the large pool area at the hotel. With the same concept as the popular television show, Malcolm played a "Project Runway" style game with two teams of contestants having 15 minutes to complete a gown out of white sheets and items found around the pool area.
Assisting in the event thrown by Kiep Marketing, was popular Provincetown icon, Miss Richfield 1981. Along with two guest judges, she provided critique of the created outfits and awarded Atlantis Events prizes to the participants. The hors d'oeuvres and beverages were provided by local caterer, Far Land Provisions, located on Bradford Street. Guests came from as far as Fort Lauderdale and Los Angeles for the event while the majority came in from Boston, MA and Providence, RI.
"We were so pleased to have this event at the hotel and bring in people from the local community as well as guests from around the country to take part in this great poolside entertainment. It is important for us to be involved in the community and events such as these are a great way to not only showcase our new renovations but also have some unique fun," said Eric Shapiro, owner of Cape Colony Inn. Malcolm has been involved in the gay travel industry with Atlantis Events for almost 20 years, with over 100 cruises and land events under his belt. This was his first event at Cape Colony Inn which was purchased last year and recently completed the first phase of renovations. In this phase, cosmetic improvements were made to the rooms including new Simmons Beautyrest Pillowtop mattresses, Keurig Brewing Machines, Flat Screen Televisions, and Pacific Coast Pillows. The hotel also held an art contest this past Spring and features custom local photography in each room throughout the property. Rates have held consistent at last season's prices and start at only $69.
"Malcolm's event at Cape Colony Inn was a wonderful showcase of his energy and the Provincetown community as well as a great way to build excitement for Cape Colony Inn. The hotel has seen a huge influx of positive reviews on social sites such as TripAdvisor, climbing to number 4 out of all Ptown hotels. Events such as these help increase awareness and introduce he property's new renovations to new guests," said Gregory Kiep, Owner of Kiep Marketing.
About Cape Colony Inn
Cape Colony Inn is a 57 room inn located in the gallery district of Provincetown, Massachusetts. It opens its doors for the 2013 Season fresh from an elaborate renovation including new lobby and guest areas, improved landscaped grounds, and renovated rooms. The new rooms feature flat screen televisions, Simmons Beautyrest Pillowtop mattresses,triple sheeting, refrigerators, fresh paint and linens, Keurig Brewing Machines, and Pacific Coast Pillows. With onsite amenities such as a heated pool, shuffleboard, parking, and close proximity to all of the local attractions, it is the perfect vacation destination.
For more information or reservations, please visit http://www.capecolonyinn.com. For comment on this photo contest, please contact Gregory Kiep at greg(at)kiepmarketing(dot)com