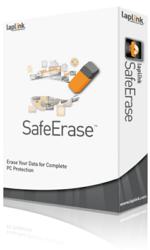 Bellevue, WA (PRWEB) June 27, 2013
Laplink Software announced today the release of its latest version of SafeErase, which has been fully optimized for Windows 8. The new version of SafeErase provides home users and businesses with crucial data protection through the permanent deletion of files, partitions, and entire hard disks using internationally recognized deletion methods. Besides numerous improvements, the new version has more functionality than any previous version.
"When you sell, return, or recycle your old computer, the data on it is almost never fully deleted. Even when hard disks are reformatted, data thieves using data recovery software easily obtain your private information, such as customer data, financial data, construction plans or even passwords," said Thomas Koll, Laplink's CEO.
A study, co-authored and conducted by Laplink and O&O Software GmbH, analyzed a sample of 160 randomly purchased hard drives and memory storage previously used in PCs, cameras and smartphones. By simply un-erasing data with commercially available tools, and without any special hardware, close to 53,000 digital pictures and 4,500 documents were recovered from the memory storage devices. Of the 160 devices, 85% were not securely erased and data could easily be recovered while 15% were either physically defective or securely erased. Although many of the files recovered seemed harmless, some included very sensitive information such as private pictures, sensitive documents, legal certificates and other personal information.
"With the release of Windows 8 and the support for XP ending, consumers and businesses are setting up replacement computers every day, many by using our PCmover software," continued Koll. "But the hard drive in the old computer is an open invitation to identity thieves, unless it is physically destroyed or the data permanently deleted using a product like SafeErase."
SafeErase has a built-in analysis function that searches for files that were not deleted securely and warns the user of the dangers associated with this data. With just a few clicks, users can clean the files and data that were not deleted safely so that data spies can no longer obtain it.
New and enhanced functions:
Completely optimized for Windows 8: In addition to being compatible with new Windows 8 devices, the program can now also be set to shut down the computer after the deletion is complete.
Internet Security: SafeErase lists per browser all the stored information – such as cookies, form data and Internet histories – which can be safely deleted either individually or combined. Once deleted, no one can trace the Internet activity, and online accounts are protected from unauthorized access.
Delete an entire computer and SSDs: All files, settings, applications and operating systems can be deleted so that a recovery is impossible. It is possible to delete the entire computer, including the system partition, without boot media. After restarting the system, the deletion process begins automatically. Should an SSD not support TRIM, the data is simply overwritten with zeros to avoid wear effects.
Six deletion methods: Writing over data with zeros means less sensitive data can be deleted at great speed. In addition, SafeErase offers a further five methods of deletion, each one differing in the amount of procedures and the type of overwriting employed.
This new release of SafeErase will be available at 50% off until Saturday, June 29, 2013.