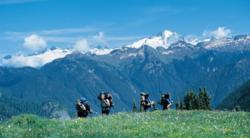 One of the most exciting aspects of adventure travel can be the preparation, but safety and comfort are important.
Jackson, WY (PRWEB) June 26, 2013
Wilderness Ventures, the oldest and most experienced adventure travel program offering teen summer camps, is offering advice and packing tips for teens who are preparing for an outdoor adventure vacation. One of the most exciting aspects of adventure travel can be the preparation, but Wilderness Ventures suggests that teen travelers keep safety in comfort in mind when gearing up.
Keep it light
When prepping for an outdoor adventure trip, teens need to remember that what they bring on their adventure stays with them for the duration. So on most outdoor trips, packing light is imperative. Wilderness Ventures suggests using all-weather backpacks that are designed to be comfortable to carry with optimum functionality. Lugging around heavy gear can cause back and neck problems, so keeping gear lightweight is important.
Walk a mile in your shoes
Wilderness Ventures suggests that teens that are gearing up for a hiking-intensive adventure "break in" their hiking boots before departing on their journey. Having uncomfortable hiking boots or boots that are not broken in can cause major blisters that can have a crippling effect on an outdoor hiking adventure. For this reason, Wilderness Ventures offers a detailed four-week plan to prepare their hiking students.
Plan for the unpredictable
Mother Nature can be very unpredictable, which is why it's important for teens to not only pack light but pack smart before their journey. When planning for outdoor travel, Wilderness Ventures suggests packing items that can do double-duty such as sun hats that can double as rain hats and long pants with zip-off legs that can become shorts. In the mountains, weather can cool off and warm up in a hurry, so packing layers of clothing is recommended. And although it takes up valuable space, rain gear should never be left off the list.
Don't spend a lot
Getting geared up for a teen summer camp doesn't have to cost a lot. Digging through old closets or asking Mom, Dad, or other relatives can be a great way to round-up the contents of a supply and gear list. Asking a friend or neighbor to borrow something or shopping at garage sales, resale shops, and online can be a great way to find valuable gear for less. Wilderness Ventures even offers a gear rental program as well as discounts on select items that give participants a chance to keep costs down.
Get your body ready
Gathering gear for an adventure trip is only half the preparation. The most important thing that can make or break an adventure trip is physical conditioning. Students who are physically active, enthusiastic, and personally motivated may get the most enjoyment out of an adventure trip. Wilderness Ventures can help students prepare for their adventure with specific pre-departure training programs that help students get physically ready for their adventure. Having a positive attitude and being excited about the journey ahead can also be great things to bring along on an adventure!
Wilderness Ventures is the oldest and most experienced adventure travel company for young people. Their life-changing experiences in some of the world's most spectacular natural settings are crafted for young adults who are just beginning their outdoor experiences or teenagers who are accustomed to life in the outdoors. For teens that are looking for excitement and adventure in a non-competitive atmosphere, Wilderness Ventures' expeditions are an ideal option and offer life-changing experiences. For more information about Wilderness Ventures, visit http://www.wildernessventures.com
About Wilderness Ventures:
With more than 21,000 alumni, Wilderness Ventures is a pioneer in adventure tours for young adults and has paved the way for young adult travel around the globe. Their more than 40 years of experience and unwavering core values of community, inter-personal growth, wholesome environments, safety, wilderness education, discovery, conservation, and exploration have led to their trusted and unmatched reputation. Wilderness Ventures currently holds special permits to operate their teen adventure trips in 20 National Parks and 17 designated wilderness areas.