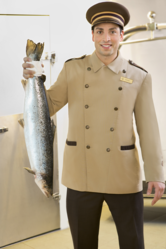 One-of-a-kind Vancouver and Victoria experiences
British Columbia (PRWEB) June 27, 2013
This summer, Fairmont Hotels & Resorts in British Columbia go the extra mile, offering one-of-a-kind Vancouver and Victoria experiences. From a Bike Butler, Tea Sommelier to a Fish Valet, Fairmont Hotels in British Columbia makes its mark this summer season. Featuring unforgettable BC summer experiences these specially selected employees will be sure to write home about.
Fairmont Pacific Rim's Bike Butler
Fairmont Pacific Rim launches Vancouver's first Bike Butler, a new resort-style experience to serve guests with all the little extras that make their stay in Vancouver an unforgettable experience. The exclusive Bike Butler service is available to members of Fairmont's President's Club – the brand's complimentary guest loyalty program. In addition to hotel amenities that truly enhance the guests stay, the 'Fairmont Fit' program provides active guests with a healthy perk with BMW Cruise Bikes to use on a complimentary basis during their stay in BC.
Born and raised in Newfoundland, the Fairmont Pacific Rim's Bike Butler Marc Henley has secured his summer job as a break from his regular studies at Thompson Rivers University. This summer he will swap the books for a bike as he prepares guests for a two-wheeled Vancouver adventure. Having 20 years of experience riding on his own two wheels, Marc will ensure the guests are equipped for their cycling adventure in Vancouver by tuning the bikes, providing helmets, locks, and water. In addition, Marc will provide guests with cycling maps, directions and tips. A passionate rider himself, Marc is extremely knowledgeable about all cycling routes in the Vancouver and will be able to guide guests to the city's top cycling treasures.
Fairmont Pacific Rim is located steps from the city's picturesque seawall in Coal Harbour; the perfect starting point for a leisurely family cycle tour of Vancouver or a vigorous, solo workout ride in the early morning and is a Bike Butler top pick within the city. The luxury BC hotel is less than two kilometers along the seawall from the beaches, trails and forests of Stanley Park.
Tea Sommelier at The Fairmont Empress
Dale Fudge, a graduate of Metropolitan Tea Company's 'College of Tea', is Fairmont Empress's official Tea Sommelier. While studying in Toronto, Dale learned the 'tricks of the trade' and became a certified expert on everything from the history of tea, to preparing the perfect cup, and tea and food pairings.
The Fairmont Empress is world renowned for its Afternoon Tea service and serving up to 500,000 cups of tea a year. The Tea Sommelier offers an added touch – to provide guests that one-one-one experience and education within the exclusive eight varieties of Fairmont Empress teas from throughout Asia and the Pacific. Dale introduces guests to the varieties of tea, regions they are grown in, harvesting methods and more. Fairmont Empress' Tea Sommelier provides a higher appreciation for that perfect cup of tea.
Fish Valet at Fairmont Vancouver Airport
Whether it's spring salmon or halibut that took the bait, The Fairmont Vancouver Airport is luring guests from local fishing lodges in British Columbia with the guarantee of frozen bragging rights for the flight home. And that's where Harvey Makasa enters. The hotel's official 'Fish Valet', 'checks' the fish into a 575-cubic foot freezer, where it's then stored until the guest departs for their journey home. Throughout the summer, once all the fish are caught, the owner of the biggest catch will receive two nights complimentary accommodation at any Fairmont Hotel & Resort of their choice within North America*. The prize can also be used at The Fairmont Vancouver Airport, a great start or finish to a fisherman's adventure on the West Coast.
Born in Australia, Harvey's heart has landed in the Canadian waters of British Columbia where he has lived for the past three years. Recently hired as the hotel's Doorperson, Harvey enjoys exchanging travel stories with guests he meets and has an abundance of fish tales from around the globe. He was recently chosen as the hotel's Fish Valet in preparation for the 2013 fishing season. Harvey's ultimate goal? To catch one the world's largest flat fish – the Pacific Halibut.
ABOUT FAIRMONT HOTELS & RESORTS
Fairmont Hotels & Resorts is a celebrated collection of more than 65 luxury properties around the globe, including Shanghai's Fairmont Peace Hotel, The Plaza in New York, and Makkah Clock Royal Tower in the Kingdom of Saudi Arabia. The luxury brand's distinctive hotels offer a sense of heritage and sophistication, warm, engaging service and culturally rich experiences. Fairmont balances the company's economic, environmental and social priorities and provides the framework for responsible hotel operations through the Sustainability Partnership program. Fairmont is owned by FRHI Holdings Limited, a leading global hotel company with over 100 hotels under the Fairmont, Raffles, and Swissôtel brands. The company also manages Fairmont, Raffles and Swissôtel branded luxury private residences club, whole-ownership residences and serviced residences properties. For more information or reservations, please call 1-800-441-1414 or visit fairmont.com.