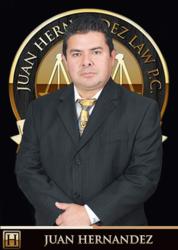 As with any stressful life event, especially when it concerns physical or mental harm, one needs a personal touch and feel like they are treated with the utmost care
Dallas, TX (PRWEB) June 28, 2013
Full-service advertising agency mesasix is proud to announce that one of the leading personal injury attorneys in Dallas, Texas, Juan Hernandez Law P.C., has joined the ranks of their prestigious client portfolio.
In the pursuit of only representing the top companies in their respective markets, Juan Hernandez Law P.C. has been on mesasix' radar for a while now. Having secured numerous multi-million dollar recoveries, they are a great client to collaborate with for an agency which has established itself as a unique, performance-driven group of entrepreneurs.
As with any stressful life event, especially when it concerns physical or mental harm, one needs a personal touch and feel like they are treated with the utmost care. Juan Hernandez Law P.C. has proven through the years to go the extra mile not only to get their clients' the compensation they deserve, but to make them feel like someone is always there for them. Juan Hernandez Law P.C. firm's strategy is always to represent the injury victims to the fullest extent of their abilities and fight for the best possible outcome through settlement negotiations or through courtroom litigation.
Being part of only 2% of personal injury lawyers with board certification in personal injury trial law by the Texas Board of Legal Specialization (TBLS.org), Juan Hernandez is an absolute specialist in personal injury trial law with a focus on cases involving car wrecks and work injuries and is uniquely qualified to represent clients in the toughest of personal injury cases. Juan Hernandez, has personally tried or settled multiple cases that qualify him as a member of both the Million Dollar Advocates Forum and the Multi-Million Dollar Advocates Forum. With an impeccable A+ Better Business Bureau rating and deep involvement in the Hispanic community, one can count on Juan Hernandez Law P.C. to provide the best legal assistance available.
As a start-up, mesasix has been making waves from day one. Working with some of the biggest names in the space, such as AT&T and Yellow Pages Holdings, they have quickly built unprecedented relationships in many industry verticals. Although currently not accepting any new clients, feel free to reach out via email to hello@mesasix.com.