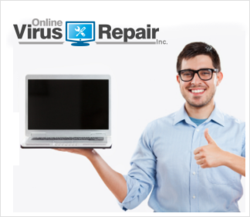 Virus removal can now be completed in minutes, not days!
San Luis Obispo, CA (PRWEB) June 27, 2013
For decades, computer owners have been forced to unplug their desktops, transport their computer to a local computer repair shop, and from there wait for days, weeks, and sometimes a month or more for their computer to be fixed. Often times being forced to pay high rates for computer services, users have also placed their data, personal information, and more in the hands of the experts at these computer repair locations. There are too many negatives associated with this method of fixing computers, yet this has been the 'norm' for as long as the personal computer has been prevalent.
That is, until now. Online Virus Repair Inc. is pleased to announce a new method that allows anyone with viruses, spyware, adware, and other types of malware, to quickly have their computer cleaned up, without the need to leave the comfort of their home or office chair. By connecting remotely to a US-based computer repair professional, those infected with the nastiest infections the Internet has to offer can take solace in knowing that the individual on the other end can completely remove the bad stuff, generally in under an hour. Moreover, because a professional on the other end is controlling the victim's computer remotely, they can also take solace in knowing exactly what the technician is viewing on their computer at all times. The new method saves a great deal of time, and costs significantly less than most local computer shops.
"We depend on our computers and technology now, more than ever," says Dan Steiner, President of Online Virus Repair Inc., "When a virus hits, it can be a disaster. Our new service allows computer users from around the nation to quickly connect with one of our experts in a minute, without the need to unplug anything." The new service has proven to be highly effective against even the trickiest viruses out there, including modern ransomware and rootkit viruses that often make computers unusable.
Steiner continues to say "We've built our service to be as hassle-free as possible. We have no pushy sales reps, annoying phone systems, or funky contracts. People can immediately connect with a trained expert, get a free checkup, and if needed, use one of our services to resolve any issues."
About Online Virus Repair Inc.
Online Virus Repair Inc. is an American based company specializing in online virus removal for individual computer users and businesses. The company was founded in 2012 and is headquartered in San Luis Obispo, CA. Customers with infected machines can call or chat with OnlineVirusRepair.com technicians to have viruses/malware/spyware removed remotely, without the hassle of taking their computer "into the shop." Technicians are able to remotely remove threats even without the client being at their computer, often in 60 minutes or less.