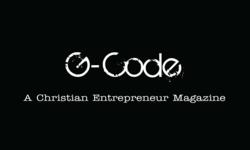 G-Code Magazine aspires to provide $2 million plus in venture capital or help launch 100 new startups by the end of 2014
Naples, FL (PRWEB) June 27, 2013
New online publication G-Code Magazine, a Christian entrepreneur magazine that just went live in June 2013 has announced it is actively entertaining opportunities to fund new startups and business ventures.
Even though the Small Business Association invested heavily in promoting the 50th official National Small Business Week, which culminated with the award ceremony in Washington D.C. on June 21st, many entrepreneurs still find access to capital holding them back.
According to a survey of venture capitalists by the National Venture Capital Association (NVCA) and Dow Jones Venture Source, 47% of respondents replied that they anticipated fundraising would decrease in 2013. The NVCA Q1 2013 survey also shows a contraction of 14% in the number of funds raising capital in the first quarter of this year compared to the end of 2012.
The latest round of data from the SBA also shows fewer small business loans being made in 2013 than 2011. Loans for new startups are less than half of the number being given to existing businesses, and a miserly 17,762 loans were made for $150,000 or under as of June 21st, 2013.
This shows that there continues to be a huge disparity in funding and loans available for existing small businesses and young companies with some type of track record versus completely new ventures and seed money for brand new startups.
These are not the types of investments banks or even the U.S. Small Business Administration (SBA) appears to have a big appetite for right now. Yet, is exactly where G-Code Magazine intends to step in and make a big difference.
While it is still an early stage venture itself the socially minded magazine's website states that in addition to giving back 10% of profits to charitable initiatives, it will also invest 10% of its profits in brand new startups and providing seed money for new business ideas. G-Code's founders say they hope that this will exceed $2 million in venture capital or 100 new startups by the end of 2014.
Of course savvy entrepreneurs know that they need more than just cold hard cash to ensure the success of their new ventures. This is where new entrepreneurs may find this publication and online portal even more valuable as G-Code seems to position itself more as an online accelerator than simply another conglomeration of business advice and marketing tips.
To date featured articles have included some pretty substantial information on crowdfunding, how to create winning executive summaries, as well as exciting interviews giving the inside scoop on how others small business owners have made it with unique branding and social media strategies.
In fact, even though just launched the magazine has already received attention from several high profile marketers and CEOs including number one Inc. 500 ranked Fortune Builders and host of the number 1 real estate investing podcast on iTunes.
When interviewed on the launch spokesman for G-Code, Tim Houghten said "it's all about inspiring and truly empowering entrepreneurs to start and grow highly successful and ethical businesses that are more focused on excellence than scraping every cent they can at the consumer's expense". In fact, his unofficial motto seems to be "How can we help you grow your business?"
Tim Houghten got into publishing full time following 12 years in business development. His resume shows being involved with several multi-billion real estate related companies including MoneyCorp., an international private equity firm, and recently as a columnist that helped take Market Leader and RealEstate.com through to its $355 million acquisition by Trulia.
Co-founder Craig Murphy, whose background is as the commercial director for one of the U.K.'s largest home builders says he was "inspired by the opportunity to really have a tangible impact on fueling a new generation of businesses that were more focused on doing good rather than just revenues".
Browsing the magazine, even while still in live testing stage certainly unveils a refreshing approach to high value content with no punches pulled. This is in great contrast to the blandness and endless recycled copy that has caused the downfall of so many other brands and stalling their growth and web traffic.
Providing the publisher continues with this high impact and hard hitting editorial style G-CodeMagazine.com and publications like it could well become a significant, positive influence that are able to finance and inspire a new generation of startups.
Aspiring entrepreneurs that have a business idea they'd like to get funded will find further information on the website at http://g-codemagazine.com.
For further comments and interviews contact G-Code Magazine's co-founder Mr. Houghten at Info@G-CodeMagazine.com.