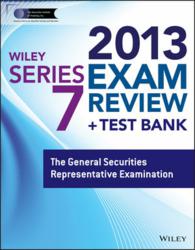 Hoboken, N.J. (PRWEB) June 27, 2013
John Wiley & Sons, Inc. (NYSE:JWa, JWb), in partnership with The Securities Institute of America, is publishing for the first time thirteen comprehensive study guides and companion test banks for finance professionals preparing to pass the qualification exams administered by The Financial Industry Regulatory Authority (FINRA). The partnership leverages Wiley's global publishing reach with The Securities Institute of America's well established subject matter expertise.
The first three study guides and companion online test banks will be available in July 2013. They are:
Series 6 - Investment Company Products/Variable Contracts Limited Representative Examination, to earn qualification to function as an agent of a broker dealer and allows the limited representative to transact business in mutual funds (closed-end funds on the initial offering only), unit investment trusts, variable annuities, and variable life insurance products.
Series 7 - General Securities Representative Examination, qualifies individuals for registration with all self-regulatory organizations to trade, promote, and sell all forms of general securities.
Series 65 - The Uniform Investment Adviser Law Examination, designed to qualify candidates as investment adviser representatives.
Additional exam review guides and test banks will be available later in 2013.
More information and product discounts are available at Wiley Securities Licensing, a dedicated website for this new series.
About Wiley
Wiley is a global provider of content-enabled solutions that improve outcomes in research, education, and professional practice. Our core businesses produce scientific, technical, medical, and scholarly journals, reference works, books, database services, and advertising; professional books, subscription products, certification and training services and online applications; and education content and services including integrated online teaching and learning resources for undergraduate and graduate students and lifelong learners.
Founded in 1807, John Wiley & Sons, Inc. (NYSE:JWa, JWb), has been a valued source of information and understanding for more than 200 years, helping people around the world meet their needs and fulfill their aspirations. Wiley and its acquired companies have published the works of more than 450 Nobel laureates in all categories: Literature, Economics, Physiology or Medicine, Physics, Chemistry, and Peace. Wiley's global headquarters are located in Hoboken, New Jersey, with operations in the U.S., Europe, Asia, Canada, and Australia. The Company's website can be accessed at http://www.wiley.com.