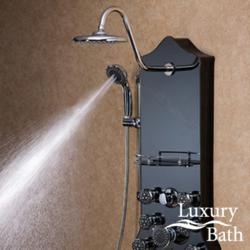 Glendale Heights, IL (PRWEB) June 27, 2013
The master bath has evolved throughout the years into a personal paradise for homeowners, providing relaxation and therapeutic benefits. Kitchen & Bath Design News recently reported that adding spa-like and therapeutic alternatives in the master bath are becoming more in demand. With the growing trend, bathroom remodeling company Luxury Bath is offering its shower spa and jetted tub options to create heat and hydrotherapy alternatives in the bathroom.
Shower Spa
To suit the fast paced lifestyle of its users who prefer the exhilaration of a shower, the bathroom remodeling company provides a spa-like treatment with its shower spa. With eight strategically placed massage jets, the shower spa provides powerful streams of therapeutic water massage with low water consumption. Giving users the option of four simulating water features, the shower spa's customizable water massage options help reduce stress and ease aching muscles in the bathroom.
Jetted Tubs
Jetted tubs can also provide a popular spa-like alternative to the bathroom. Deeper than standard tubs, the bathroom remodeling company's jetted tubs feature built-in armrests, water jets and warm air massage jets to help ease an aching body. For homeowners who wish to stay in their homes as long as possible, age in place options such as therapeutic walk-in tubs are also provided by the bathroom remodeling company. Fully customizable, the walk-in tubs provide heat therapy that help promote relaxation and comfort in any bathroom.
"People want to create the ideal spa-like bathroom not only to relax, but for added health benefits," said Davis Glassberg, President of Luxury Bath. "With our exclusive shower spa and jetted tubs, we're also helping to deliver spa features that help improve the health and general wellness of our users."
About Luxury Bath
Luxury Bath (http://www.luxurybath.com) has been providing one-day bathroom remodeling updates and ideas since 1991. Supplying over 900 different bathroom remodeling companies across North America, Luxury Bath offers customers new bathroom ideas and provides high quality affordable bathroom remodeling products.
###