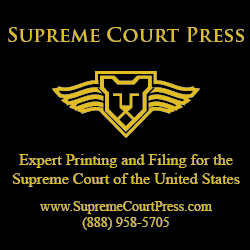 I don't think my petition for a writ of certiorari would have gotten into the Supreme Court without the invaluable support of the Supreme Court Press - Giridhar Sekhar
Washington, D.C. (PRWEB) June 27, 2013
The Supreme Court Press, the leader in exquisite document preparation, legal printing, and filing with the Supreme Court of the United States is proud to have contributed to another successful writ of certiorari that resulted in a victory on the merits. On June 26, 2013, the Supreme Court announced its decision in Sekhar v. United States, No.12-357, that resulted in a complete and total acquittal for Mr. Sekhar by a unanimous 9-0 vote.
The Supreme Court Press worked with Mr. Sekhar on the preparation of his petition for a writ of certiorari. According to Mr. Sekhar, "I don't think my petition for a writ of certiorari would have gotten into the Supreme Court without the invaluable support of the Supreme Court Press. They made several astute suggestions and asked penetrating questions on the logic and the wording that led us to redraft a better finished legal brief. They have tremendous wisdom about the certiorari petition filing process. To call them legal printers would be selling their value-add way short. I highly recommend the Supreme Court Press if you want to present your case to the Supreme Court in the most attractive light."
Mr. Sekhar discussed his journey to the Supreme Court in an exclusive interview on our website at http://www.supremecourtpress.com. The story is incredible on so many levels. Firstly, this is the second (2nd) acquittal for Mr. Sekhar, having already won a case on the same charges in New York state court. Secondly, Mr. Sekhar had represented himself pro se at the federal district court in Albany, and it turned out that his original argument, that all charges should have been dismissed before trial, was vindicated by the Supreme Court. Thirdly, even though he had no lawyer during his trial, his case attracted the attention and representation of Paul Clement, the former Solicitor General of the United States, considered one of the nation's elite Supreme Court practitioners.
About the Supreme Court Press: The Supreme Court Press specializes in the affordable preparation, printing, and filing of legal briefs in compliance with the rules of the United States Supreme Court. Any document filed with the high court must meet precise requirements on formatting, binding, and delivery. A non-compliant document can be rejected by the court, damaging or ending your client's pursuit of justice. Our expert team works hand in hand with you to exquisitely prepare, print, and file your documents, taking the worry out of the process for you. Call us at 888-958-5705 or email us at editor(at)supremecourtpress(dot)com to discuss your filing needs.