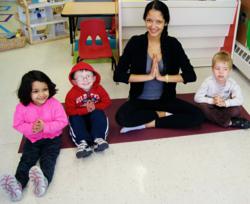 Rose Pavlov, Founder of Ivy Child: "This unique yoga and mindfulness program is designed to enhance awareness and appreciation within children and their surroundings…Inspiring and developing a deeper connection with their environment through nature."
Worcester, MA (PRWEB) June 27, 2013
When 5-year-old Olivia Frimpong learned how the 'Calming Hands' technique could make her "feel happy when she's sad", her mother, Patience Frimpong, couldn't be more proud about this remarkable improvement. Olivia, along with other children, practiced yoga through the Yoga and Mindfulness program designed and offered by Ivy Child International.
In a fast-paced media age where children are affected by excessive electronic distractions, this program focuses on enhancing children's awareness, imagination, empathy and combats stress and anxiety.
Rose Pavlov, Founder, President and CEO of Ivy Child, says that this unique yoga and mindfulness program is designed to enhance awareness and appreciation within children and their surroundings. "A key component draws on inspiring and developing a deeper connection with their environment through nature," says Pavlov.
In January 2012, Ivy Child International led the Gabriel Valentine Felix Yoga and Mindfulness for Kids at the Salmon Center for Early Education. Shirley Sherman, Director of the Salmon Center for Early Education, said that the program is unique because numerous developmental domains are targeted within one lesson.
"Gross motor skills, listening skills, following directions, music appreciation, expressive language, self-regulation skills and social-emotional development are incorporated into the 60-minute class," said Sherman.
Professional yoga practitioners conduct the classes and Ivy Child representatives record the quality and progress of each class. Classes include learning mindfulness practices through synchronized yoga postures in a journey of exploring the environment and nature.
Interested in giving your child the gift of health this summer by practicing yoga?
A new program, 'Kids Yoga in the Park', starts on July 6th - August 31st and will be held every Saturday from 10am to 11am at Elm Park (Worcester, MA). This program is open to the community and all ages are welcome to join. Sign up by July 5th, 2013 for the full 9-week program at a discounted price of $150 (receive complimentary health consultation for your child). The cost per drop-in class is $20 per child and $10 for every additional child. Parents can also preregister online to get the early bird price of $17 per child.
To preregister or for more information, please visit http://ivychild.org/events/kids-yoga-in-the-park/ or contact Ivy Child International at info(at)ivychild(dot)org
About Ivy Child International:
Ivy Child is a non-profit organization based in Worcester providing cross-cultural positive psychological services for children, families and communities worldwide. Support Ivy Child by donating online to further our mission of "Helping Each Child Achieve Their Best." Make a difference today.